Mix
Mix was a recording industry monthly magazine, distributed in recording studios, pro-audio stores, music stores and other related businesses.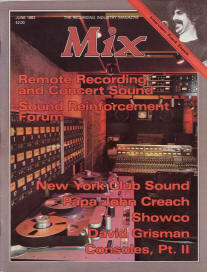 Vol. 7 No. 6
(1) An Interview With Frank Zappa
By Dan Forte, pp 86-87, 90, 104, 106
(2) Nagano On Conducting Zappa
By Dan Forte, pp 87-88
---
(1) Mix: How did you interact with the San Francisco Contemporary Music Players in the rehearsals?
Zappa: Did I tweeze it out? Yeah, I tweezed it. They knew the stuff very well before I got here; they had played it before. They knew what the notes were – it was just a matter of spiffing it up. Ultimately, it's up to the musician. What the conductor is doing is showing where the beat is, and then telling them things about style to taper it to his own taste. The instructions I gave them about style were not extensive, because the minute I started conducting them they sounded like they had a pretty good grasp of what the piece was supposed to be. The only things I told them, for instance, was how to say certain parts – don't just play the notes, but make it talk. (read more)
(2) One of my big interests is new music. But not just any new music; it has to be of quality sufficient enough to enter into traditional repertoire. I'm not interested at all in experimental music or avant-garde music; I'm interested in new music that already has the bugs worked out of it and is a highly refined form of art. When I heard that Frank Zappa had been commissioned to write some pieces for Pierre Boulez, I was really curious, because that's one of the biggest honors a composer can possibly get – to have Boulez ask you to write a piece for his ensemble. (read more)
1985 September
Vol. 9 No. 9
Lynching With Bonzai: Frank Zappa
By Mr. Bonzai, pp 40-43, 45
---
I just left Frank Zappa's house where I finally got to conduct a "lunching" with the maestro himself. Ouch – what a grouch he can be. There I was, well-stocked with a batch of Bonzai questions, whimsical yet pithy, off-the-wall yet down-to-earth. Only hoping that one bozo inquiry wouldn't shoot the whole interview down, I persisted as good-naturedly as possible. (read more)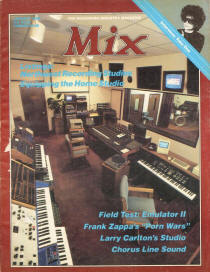 Vol. 10 No. 1
Mr. Z Goes to Washington
By Rip Rense, pp 90, 92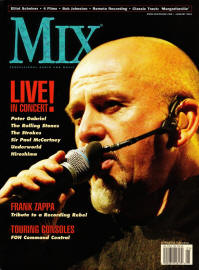 Vol. 27 No. 1
We are the Mothers...and This Is What We Sound Like!
By Chris Michie, pp 30-32, 34, 36, 38, 40, 42
---
Frank Zappa has been justly celebrated as a composer, guitarist, bandleader, social and political commentator, scourge of the religious right and free-speech activist. Less commonly noted is that Zappa was an early adopter of almost every significant new recording technology since the dawn of multitrack, and often used those technologies and devices in entirely original ways. The Zappa catalog, which now numbers in excess of 70 releases, contains countless examples of innovative uses of technology and many outrageously original solutions to musical and technical problems. (read more)
Source: C.Ulrich