ModellFan
ModellFan, founded in 1974, is the biggest German plastic model building magazine and official magazine of the German Plastic Model Building Society (Deutsche Plastik-Modellbau-Verband DPMV).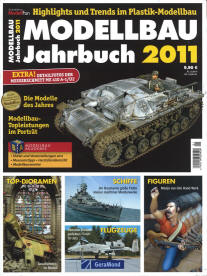 2011 January 01
No 18
Modellbau Jahrbuch
Figuren und Dioramen
By ?, pp 36-37, 40-42
---
This article is about Belgian model builder Marijn van Gils. He's a long time Zappa fan. In 2007 he did "Zappa!!!", action figure in 1:35 scale inspired by George Braque's painting "Nu descendant l'escalier".
slime.oofytv.set:
It's a fascinating mag even without understanding German; most of the content is on vehicle models of all types, with excruciatingly accurate detailing, right down to the corrosion patterns on the rivets, even the misc. Hand tools scattered around are totally life-like with perfectly weathered wooden handles and strategically placed dirt ... the emphasis is on hand crafting all the parts & pieces, rather than assembling from a kit; templates are used for some of the curved pieces ... plenty of articles & ads for all the model-making gear you could imagine, such as 9 types of industrial tweezers [for surgically grafting glued parts to each other], glue guns, miniature clamps & jigs, laser cutting machines for fabricating the parts etc. ...
Magazine scan - 2011 01 01 Modellbau Jahrbuch [DE] - fz action figure (magz)
Source: slime.oofytv.set