Movies Now
Movies Now was a bi-monthly magazine officially sponsored by The National Association Of Theatre Owners with guaranteed paid circulation, by theatres, of over one million copies per issue.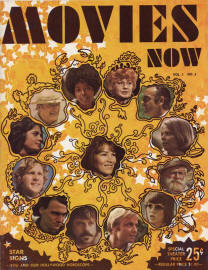 1971 Fall Edition
Vol. 1 No. 2
Zappa Presents 200 Motels - A Comic Opera
By Fran Noden, pp 14-15

Zap! Into Zappaland
Interview by Movies Now, pp 30-31
---
"The film medium is great for me. When I write music I think of what I would like someone to see," the head Mother of Invention continued. "When there's only sound, people can misconstrue the intent. Film provides specific images along with specific sounds. It comes out the way I imagined it in the first place."
"Actually, the ideas for my music develop over a period of time," Frank said, spreading out some 20 sheets of pen-inked yellow and white, off-white and shell-colored sheets of music. "I wrote all of this in motels while I was traveling with the band. That's where the title comes from." (read more)
---
Page 71:
200 Motes (R)
Musical-Fantasy. A decade in the world of rock, this surrealistic extravaganza is set in a mythical town, with locations ranging from a concentration camp to an underground cinema and from roadside motel rooms to a newt farm, as seen by a rock group on tour. Frank Zappa, Theodore Bikel, Ringo Starr, Royal Philharmonic Orchestra. (United Artists)