Musica Jazz
Musica Jazz is the first jazz magazine in Italy since 1945.

Vol. 28 No. 6 Issue 296
Il caso Zappa
By Giuseppe Dalla Bona, pp 10-13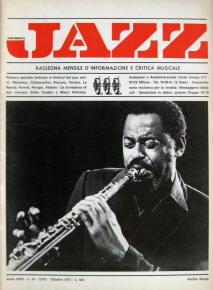 Vol. 29 No. 10 Issue 310
Frank Zappa a Bologna
By Franco Fayenz, p 34
---
Google translate:

Rarely, as in the case of Frank Zappa, whom I encountered at his concert on August 30 in Bologna (31 played in Rome and on September 20 in Genoa) I noticed such a blatant difference between the character and his music. But this also happens, and who has enough experience of the artistic phenomenon is not surprised. Rather, a serious wrong is done to a serious fact like the artist's commitment, attributing it even to those who don't have it at all, or don't have it anymore (and Zappa is among them). Zappa is today a very comer, he knows it, he likes it, he acts like it and everything else doesn't care about it. In the halls of the most luxurious hotel in Bologna, he held a lot to show himself and take pictures of himself as a sort of sultan, always grappling with two beautiful women-happily cohabiting object and prone to the wishes of the master. He answered questions with monosyllables or with more or less successful jokes. To me, who asked him what meaning should be attributed to the inclusion of jazzists as a whole like Jean-Luc Ponty and George Duke, he replicated having signed them because they can play notes and can improvise. I confess that I have not been able to see in this sentence an intelligent allusion to the current convergence of the various genres of music. So I left the field to rock experts, who even knew his personal habits so they could communicate better.

All in all I went to Stadium Comunale, chosen venue for the concert, ill-prepared and prevented. I was expecting something stereotyped and tired, compared to the life momentum of his records, and I regretfully looked at the seven / eight thousand guys who paid a ticket too salty for their pockets and were risking looming rain. Many were also about to spend the night in the sleeping bag, or in the train seats, in order to listen to the Sultan (who needs the audience, but fears him in a way that cannot be justified by what happened to him in the past). Instead I was wrong. Zappa complex, apart from Duke and Ponty who are amazing and have gathered the biggest applause, boasts excellent soloists and plays more than ever valuable music, jazz-kneading (which is the main component) of rock and abundant European echoes , in which the witty shadow often appears, for sure, grotesque and amused Stravinsky. If I'm not mistaken, for the first time the leader could count on seven collaborators able to read a score at first sight. The lineup was as follows: Jean-Luc Ponty (vl. ), Bruce Fowler (trne), Ian Underwood (fl., cl. b.), George Duke (Tast. ), Ruth Underwood (vib., marimba, eardrums), Frank Zappa (ch. ) Tom Fowler (b. el. el. ), Ralph Humphrey (beat. ). I've admired beautiful solo and harmonious passages of great taste, compared to the stubborn percussion of the rock type - yet not always present - it expires at little more than an expedient, just like four quarters in Benny Goodman's time. Among others, it made a song that I miss the title, but which, by heart, seemed to me from the disc ′′ Uncle Meat ": I'd be tempted to call it an anthology piece.

These are, you understand, the facts that matter, but I wanted to reiterate that sometimes man and opera are two different things. The only major concert flaw was the crazy amplification, which literally threw the most vigorous moments into chaos and not rarely the most positive moments. It's time to end it for real: but you can only hope that interested musicians understand and provide.
Source: facebook.com/musicajazz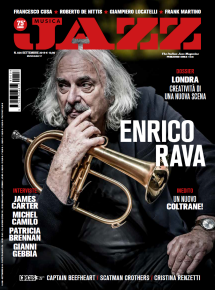 2019 September
Vol. 75 No. 9 Issue 841
Moon In June
By Riccardo Bertoncelli, pp 84-87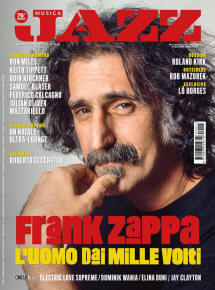 2020 December
Vol. 76 No. 12 Issue 826
Frank Zappa at 80
pp 26-35
Padri e figli dell'invenzione
By Gennaro Fucile
Topi caldi e altre storie
By Riccardo Bertoncelli
Lo strano odore del jazz
By Luca Conti
FZ meets Jean-Luc Ponty
By Roberto Valentino
La mela di Zappa
By Vittorio Albani