Musikbox
Musikbox was one of the most valued and widely circulating magazines in the Italian independent scene. Established in 1997.
The very last issue was supposedly the Genesis Special #106/107 in 2007.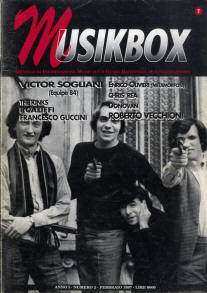 1997 February
Vol. 1 No. 2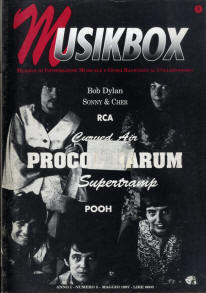 Vol. 1 No. 5
Frank Zappa "Läther"
By Giorgio Meloni, p 27
---

Automatic translation: Yet another CD released posthumously, "Läther" fully embodies the brilliant spirit of its even more brilliant author, that Frank Zappa we miss so much. Originally conceived as a quadruple LP, the album has been almost totally dismembered over the years to give life to other albums in Zappa's extensive catalog, including "Zappa in New York", "Sleep dirt", "Orchestral favorites", "Sheik Yerbouti "," Studio tan "etc., all in the name of alleged marketing policies. (read more)
Source: Fulvio Fiore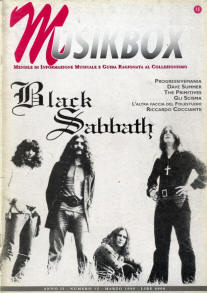 Vol. 2 No. 15
Frank Zappa "Cucamonga"
By Massimo del Pozzo, p 29
---

Automatic translation: If you are not a huge fan of the Cucamonga artist, read this review without fear. In fact, the Frank we are dealing with is that of rock'n'roll origins, the real ones, unknown to most and even dated 1963 and around. (read more)
Source: Fulvio Fiore
Vol. 2 No. 17
Zappa & The Mothers Of Invention (1966/1968 - periodo Verve)
By Giorgio Meloni, pp 4-10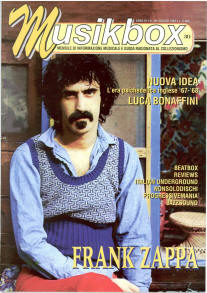 Vol. 3 No. 30
Frank Zappa: il moschettiere elettrico (periodo Bizarre/Discreet 1969-1979)
By Giorgio Meloni, pp 4-14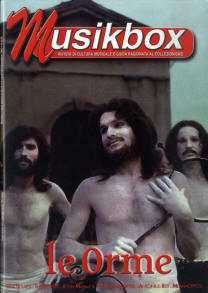 2003 November / December
No. 14 (70/71)
Does Humor Belong In Music (DVD)
By Antonio Ranalli, p 95
---
Does Humor Belong In Music? Frank Zappa Live The Pier NYC USA 26th August 1984 is the 1st reissue of the well-known videocassette released in 1985. The quality of the songs is excellent, thanks to the digital remastering. Fourteen tracks for just over an hour of music. However, one is disappointed by the lack of extras and bonus tracks.
Source: Fulvio Fiore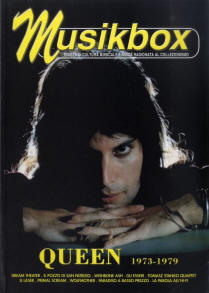 2006 November / December
No. 28 (98/99)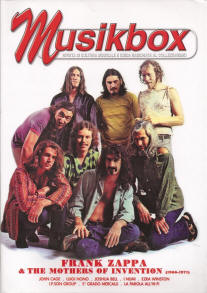 2007 January / February
No. 29 (100/101)
Frank Zappa & The Mothers Of Invention: A presidia
o di una consapevole assurdità
By Achille Icelino & Anselmo Patacchini, pp 10-15

Guida all'ascolto / Frank Zappa & The Mothers Of Invention (1966-1971)
pp 16-28

Frank Zappa & The Mothers Of Invention / Discografia USA/UK/ITA (1966-1971)
p 29

Note & curiosità discrografiche
By Anselmo Patacchini & Giorgio Meloni, pp 30-33