New Light Music
ニュー・ライトミュージック

This magazine (originally called Young Yamaha) started in 1969 by Yamaha Music Foundation (ヤマハ音楽振興会), which sponsored the Yamaha Light Music Contest in these years. The magazine soon changed its title to Light Music and continued to be published until January 1976. In April of the same year, it was restarted as New Light Music, but only lasted for several months.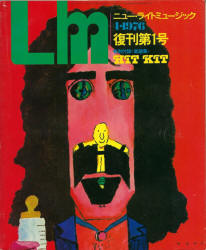 Vol. 8 No. 4
Concert Review
By Ito Ginji (伊藤銀次), p 72

---
TAN Mitsugu: This issue has guitarist Ito Ginji's review of FZ's second Tokyo concert (1976/2/5). He reported: "Zappa's amp was not working well that day, so there was no encore, but he played for a full three hours. At the end of the show, Zappa himself explained about the amp problem, to which the audience gave a warm round of applause. It was an impressive ending". In addition, the front cover of this issue features an illustration of FZ by artist/animator Furukawa Taku.