New Paper
New Paper was founded in 1979 as free news, arts & entertainment weekly. Later the paper was called Providence Phoenix, which ceased in 2014.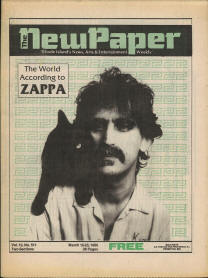 1988 March 16-23
Vol. 10 No. 511
Citizen Zappa
By Jim Macnie, pp 1, 18
---


Between the Rykodisc reissue campaign, the PMRC, the Synclavier and some questions about the Mothers, there were plenty of topics I wanted to cover in last week's phone interview. But holding true to his all-business persona, Frank started the Sunday afternoon conversation by saying, "You've got seven minutes."
The New Paper: Could the original Mothers carry out the music the way you wanted?
Frank Zappa: No. It was frustrating. (read more)
Source: slime.oofytv.set