The New Yorker
The New Yorker
is an American magazine that publishes reportage, commentary, criticism, essays, fiction, satire, cartoons, and poetry. Starting as a weekly in 1925, the magazine is now published 47 times per year, with five of these issues covering two-week spans. (
wikipedia
)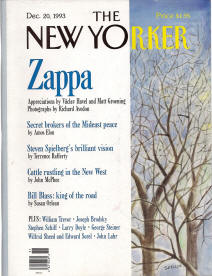 1993 December 20
Vol. 69 No. 43
Idol
By Matt Groening, pp 84-86

Revolutionary
By Václav Havel, pp 86-87
---
FRANK ZAPPA, who died last week, at the age of fifty-two, became my hero in 1966, when I was twelve: I plucked his first LP, the Mothers of Invention's "Freak Out!," from a variety-store bin in my home town, Portland, Oregon. The album was snotty and disturbing, and its gleefully mocking rock and roll warmed my warped preteen heart. Zappa himself oozed sarcasm, with that droopy mustache and wedgy little goatee, and the liner notes to "Freak Out!" began, "I was born in Baltimore, Maryland, December 21, 1940, and grew up in California. I am a self-taught musician, composer, blah, blah, blah." I was hooked. (read more)
Source: slime.oofytv.set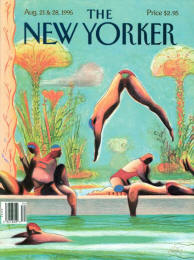 1995 August 21 & 28
Vol. 71 No. 25
Rock And Roll Hall Of Fame And Museum
Sketchbook by Gerald Scarfe, pp 96-97
---
SKETCHBOOK of I. M. Pei's ninety-two-million-dollar Rock and Roll Hall of Fame and Museum, located in Cleveland, and illustrations of various rock music legends honored there. The Museum, with its state-of-the-art interactive exhibits and its wide-ranging memorabilia, opens September 1st on the shores of Lake Erie, and one thing is unmistakable: the heart of rock and roll is now in Cleveland. The two-page color spread shows rock musicians Bill Haley, Ray Charles, Elvis Presley (including a separate illustration of Elvis in Las Vegas), Jimi Hendrix, Roy Orbison, Stevie Wonder, Tina Turner, Frank Zappa, Janis Joplin, and Bob Dylan.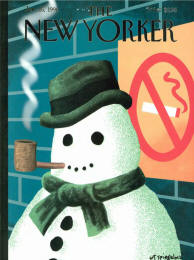 1996 January 15
Vol. 71 No. 44
Postscript Nicolas Slonimsky
By Lawrence Weschler, pp 78-79
---
Postscript about Nicolas Slonimsky, who died December 25, 1995.
Slonimsky outlived virtually all his contemporaries and, sadly, many of his juniors, including his dear friend and admirer Frank Zappa. Zappa once featured Slonimsky as a performer at a Mothers of Invention concert, introducing him as "our national treasure"; the crowd went wild. Zappa told me about the first time he invited Slonimsky to his house: the Master played Zappa's Bösendorfer, "and nobody has ever played that piano as loud as that man—and not jumping up and down like a madman, just from the strength of his arms and his spirit." He was "a human dynamo, with a fantastic brain and a body made out of molybdenum." Another thing Zappa really liked about him was his clothes: "That first evening, when he was standing there, his clothes didn't match, but they were obviously cool, and you knew that this was one of the Real Guys."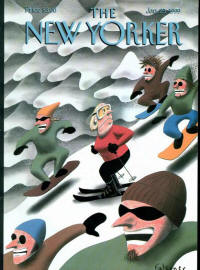 1999 January 25
Vol. 74 No. 43
Life Of The Party
A major Democratic donor fights for Zappa family values
By Connie Bruck, pp 30-33
---
Earlier this month, one of the Democratic Party's most generous contributors had dinner with an old friend, Larry Flynt, at Chasen's, in Beverly Hills. The much publicized million-dollar bounty offered by Flynt for proof of sexual indiscretions by sanctimonious politicians has, of course, sealed his status as a social pariah; even Democrats condemn his efforts publicly and disavow any connection with him. But not this Democrat – Gail Zappa. She consistently goes out of her way to underscore that she is not only a friend but also a great admirer of Flynt's, and nothing seems to rile her more than what she views as the squeamishness of some Democratic politicians and their aides. "Why do they have to revile Larry?" she demanded. "Why can't they say, which is the truth, 'We really enjoy what Larry's doing, but we can't become involved in it'? " Gail, who is the widow of Frank Zappa, the composer and musician, has given more than half a million dollars to the Democratic Party and its candidates over the past three years, and she ranks among the party's top individual donors. She is so solidly in the Democratic fold that she dines often at the White House and has become a regular at the fund-raising events that President Clinton and Vice-President Gore routinely attend when they are in Los Angeles. (read more)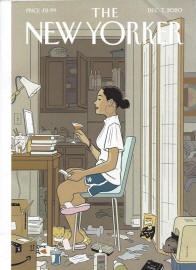 2020 December 7
Vol. 96 No. 39
The Treasure in Frank Zappa's Secret Subterranean Vault
By John Seabrook, pp 19-20
---
Alex Winter's latest documentary began with a deceptively simple question, one that came up in a brainstorming session with his producer, Glen Zipper: Why hasn't somebody made an authorized movie about Frank Zappa? Seeking an explanation, Winter contacted Ahmet Zappa, one of the late musician's children. The short answer, Ahmet told him, was Gail, the mother of Ahmet and the three other Zappa kids: Moon, Dweezil, and Diva. During Frank's life (1940- 93), Gail helped manage his business affairs, including an indie label and a home recording studio that Frank called the Utility Muffin Research Kitchen. (read more)
Source: slime.oofytv.set