Non Stop
Polish music monthly 1972-1989. Last two years 1988-89 famous Polish musician Zbigniew Holdys was the editor.
---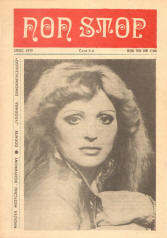 Contains a fake news about the concert, where Vienna Symphony performed works of Frank Zappa. As we know this plan was cancelled. (See "Two Orchestral Stupidities".)
Vol. 17 No. 189
Freak Out
By Cezari Filew, pp 26-27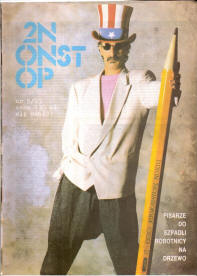 Vol. 18 No. 200
FZ on the cover and short notice (below) in the gossip section (by Wieslaw Weiss).
---
Zappa, ktry mimo zapowiedzi - nie dotar nigdy do Polski, da kilka koncertw w Zwizku Radzieckim. W odtwarzanym w Bliej wiata" wywiadzie dla telewizji moskiewskiej, obieca wypoyczy tamtejszym muzykom wasne supernowoczesne studio nagraniowe. Ciarwk pen sprztu przywiezie do ZSRR amerykaski wojskowy samolot transportowy. Wspczesny ko trojaski?
FZ hasn't been in Poland yet but had some concerts in the soviet block. In an interview to Moscow TV FZ promised to open an ultramodern recording studio there. An US military aircraft will bring the equipment to USSR. A modern Trojan horse?

Source: slime.oofytv.set