Open City
Los Angeles weekly in '60s published by
John Bryan
, "The King of the Underground Press"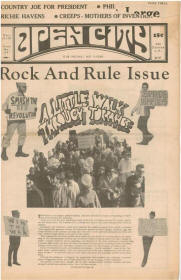 1967 December 22-28
Issue 34
(1) Frank's Favourite Topic: Creeps Are The Backbone Of This Country
Interview by John Bryan, pp 8-9
(2) A Word Sums Up Mothers Of Invention: Genius
By Frank Kofsky, pp 8-9
---
(1) Frank Zappa, a freaker who's always "on stage," an innovator both in sound and styles who helped create the current L.A. hip predilection for all-day costumes, full, bushy hair, strangely barbered beards and mustaches, is coldly and deliberately aware of the effects he produces in his people-environment. He knows exactly where America is at ("Creeps are the backbone of the country"), has carefully studied that backbone as well as any man living, and can blow your mind with his descriptions of the gruesomely real but hilarious lifestyles of freaky people with imagination.
"The appearance of our group borders on the grotesque," he said in a recent interview. (read more)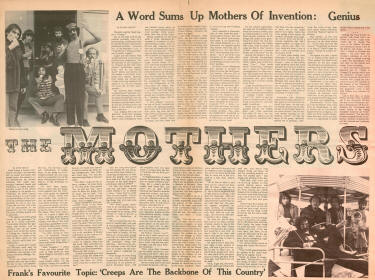 Source: slime.oofytv.set
1968 December 13-19
Issue 82
A Bizarre Night At The Shrine
By Pete Senoff, p 11
---
BIZARRE: Odd, extravagant; involving sensational contrasts or striking incongruities.
That's how Webster defines the word.
Last weekend, Frank Zappa and his Bizarre Productions defined it visually ... quite visually ... in a two night Shrine Hall engagement. (read more)