PF
PF was published by Hosei Daigaku Gakkan Shuppan Koho Center [Hosei University Students Union Publicity Center]. It seems that only one issue exists.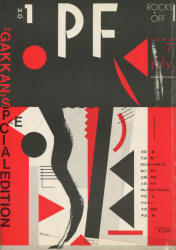 No. 1
何ものにも開かれた気分でいたいんだ ブルース・ファウラー・インタビュー
(I Want To Be Open To Anything - An Interview with Bruce Fowler)
By Minemura Sakio (峰村咲雄), pp 20-23

---
TAN Mitsugu:
This interview was conducted around the time when Bruce gave a concert at Hosei University on January 14th, 1983. (He came to Japan mainly for the gig with Bingo Miki & Inner Galaxy Orchestra.)

Some quotes:

"[During the stage performance of the Mothers,] Beefheart would draw Zappa on his sketchbook. Those drawings were fantastic."

"When John Lennon was killed, Beefheart had just released an album and was on the tour. Then he started to say "I will never tour again". He and Zappa were surrounded by crazy mobs, who would go wild during a concert and throw bottles to hurt you. I once saw some weird guys shouting "Get down!" to Don, and he retorted "Why don't *YOU* get up?" [...] Outside of the U.S., Italy is also dangerous. So Don says he won't do any concert tour, and Zappa seems to be intimidated too. But I'm trying to talk Don into visiting Japan, since this country is still peaceful."