Pop/Rocky
Pop/Rocky
was a youth magazine published by the Marquard Media Group from 1980 to 1998. In June 1980, the youth magazines
Rocky
,
Pop
and
Popfoto
were merged into
Pop/Rocky
, which was subsequently published biweekly. From the mid-nineties, the magazine was published weekly. In June 1998, it was discontinued in favor of the youth magazine
Popcorn
, also published by the Marquard Media Group. (
wikipedia
)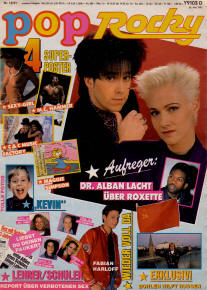 No. 12
Zappa - der Revoluzzer
By ?, pp 44-45
---
[The last paragraph] Automatic translation: From time to time he still behaves rebelliously and fights for pornography - whenever conservative parents' associations in the USA want to intervene against supposedly obscene rock and pop music. If necessary, Frank Zappa also appears before the senators in Washington to plead for the freedom of art with passionate speeches and to support colleagues such as the rappers from 2 Live Crew. Even in a pinstripe suit, he is and remains a critical and idiosyncratic citizen fright.
Source: eBay