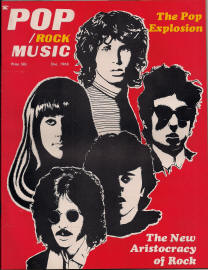 1968 December
No. 3
Riffing from King Kong to Lenny Bruce
p 42
---
Articles and photos on:
- Inside the front cover is an amazing half page photo of Brian Jones and Nico in the crowd at the Monterey Pop Festival. There seem to be a lot of rare photos from Monterey in this magazine, which I love (including several of what appears to be a very young Gregg Allman. Don't know if he was there as an audience member or as part of one of his early, pre-Allman Brothers bands, but I swear it's him)!
- The Beatles - 4 pages of good text in 3 separate articles, including "Lennon a Mystic?"
- Jimi Hendrix - 2 page feature with photos. "Music For The Head, Heart and Soul" - feature article with lots of photos
- The Rolling Stones - 4 page feature NICO - some rare pictures of her in attendance at Monterey including a great one with Brian Jones
- Country Joe and The Fish
- Mike Bloomfield and The Electric Flag
- Donovan
- The Byrds with Gram Parsons
- The Yardbirds with Jimmy Page
- Ravi Shankar
- Jim Morrison and The Doors
- 4 pages Janis Joplin and Big Brother
- Quicksilver Messenger Service
- Iron Butterfly - rare interview with Doug Ingle
- The Fugs
- Jefferson Airplane
- The Grateful Dead
- Procul Harum
- Frank Zappa and The Mothers of Invention
- Eric Clapton and Cream
- Buffalo Springfield - article about their final concert appearance with rare live photo
- Bob Dylan
- 2 pages interview with Barry Gibb of The Bee Gees
- Blue Cheer
- Simon and Garfunkel ("A Monk and a Dandelion")
- Moby Grape much much more.