Poster
Poster
was the biggest Swedish/Scandinavian pop magazine of the 70's. Everyone who grew up that time will never forget about it. German Hans Hatwig is the founder of the magazine which "papered the walls of a whole generation", as he once said. He also took many of the magazine photos himself.
Poster
was published monthly in 1974-1980. (
Svenska Poptidningar
)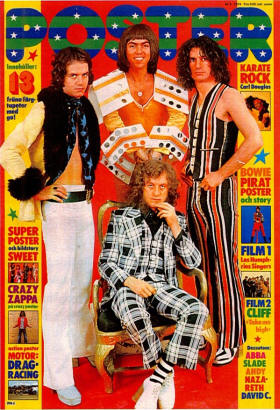 1974 December
No. 2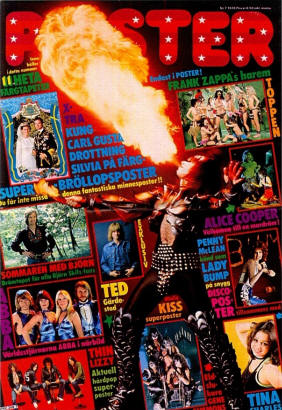 No. 7
---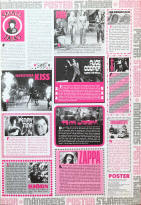 Letar man efter profiler inom popmusiken måste Francis Vincent Zappa komma med på en framträdande plats. Han har specialiserat sig på konstiga klanger, uppseendeväckande uttalanden och galna infall. Född den 21 december 1940 har han ju också haft mera tid på sig än de flesta popmusiker att bli en legend. Uppemot 20 LP-plattor har han hunnit med och antalet grupper närmar sig antagligen det dubbla, ingen har hållit räkningen, allra minst Zappa själv. Suveränt har han satt slutet av 60-talet började allt flera grupper att låta som Zappa. Han och hans Mothers of Invention blev mer än ett fenomen, folk hade vant sig vid deras klanger och de blev välkända och erkända långt utanför USA.

Men en man som Zappa nöjer sig inte med att bara vara världsberömd musiker. Hans film "200 Motes", diskuteras fortfarande, han har och har haft flera skivbolag, ställt upp och producerat doga vänner som Alice Cooper och Captain Beefheart och i sin grupp the Mothers, dragit fram sådana förmågor som Jean-Luc Ponty och Aynsley Dunbar.

Google translate: If you are looking for profiles in pop music, Francis Vincent Zappa must be included in a prominent place. He specializes in strange sounds, startling statements and crazy whims. Born on December 21, 1940, he has also had more time than most pop musicians to become a legend. He has managed up to 20 LPs and the number of groups is probably doubling, no one has kept track, least of all Zappa himself. Superbly he has set the late 60s, more and more groups began to sound like Zappa. He and his Mothers of Invention became more than a phenomenon, people had become accustomed to their sounds and they became well known and recognized far beyond the United States.

But a man like Zappa is not content with just being a world-famous musician. His film "200 Motes" is still being discussed, he has and has had several record companies, set up and produced good friends like Alice Cooper and Captain Beefheart and in his group the Mothers, produced such abilities as Jean-Luc Ponty and Aynsley Dunbar.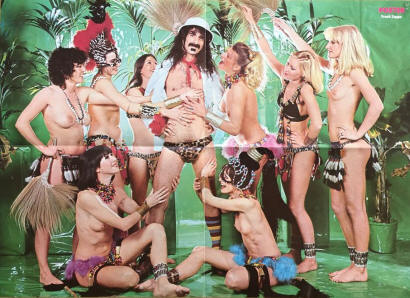 Source: Svenska Poptidningar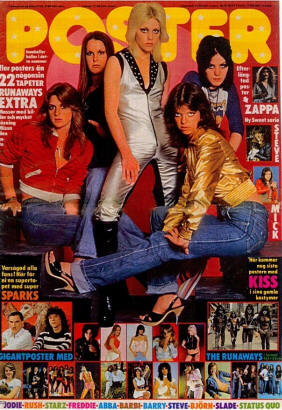 No. 8