Primo Times
Primo Times
, "The Indiana Magazine Of Popular Culture", was published by Michael Redman in Bloomington, Indiana, 1974-1978. Following the demise of
Primo Times
Michael Redman started weekly/bi-weekly
Real Times
, which lasted until spring 1983. (
Bloomingpedia
)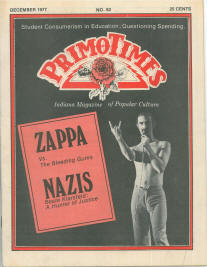 1977 December
No. 82
Frank Zappa Vs. The Bleeding Gums
By Peter Lopilato, pp 28-31
---
Primo: Your remarks about getting acquainted with the audience - to me they indicate a sort of sublimated contempt for you audience.
Zappa: If you think that, you have absolutely no understanding of my relationship with the audience. (read more)
---
Some pictures taken by Primo Times' editor Michael Redman in connection with this interview were available from him in auctions.
Source: slime.oofytv.set