Public News
Houston's alternative newspaper, which was published 837 consecutive weeks from 1982 to 1998.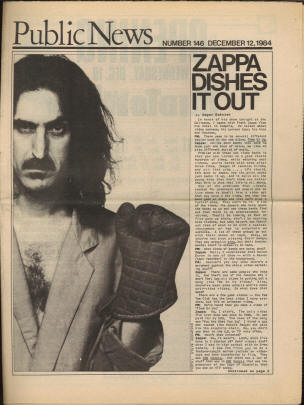 1984 December 12
No. 146
Zappa Dishes It Out
By Roger Dakotah, pp 1, 3, 6

---
In honor of his show tonight at the Coliseum, I spoke with Frank Zappa from his hotel in Memphis. He talked about video madness, his current tour, his kids and Houston.
PN: There seem to be several different styles used on the new album, Them Or Us.
Zappa: Unlike most bands that seem to know just one kind of noise, we like to play different styles of music.
Problem with these new video bands is that you can listen to a good record hundreds of times, while watching most videos, you're bored with them after three times. Images of venetian blinds, and all that crap … it's stupid. It's done to death, and the print media just backs it up. And it tells all the young kids that don't know any better that this is what real life is all about.
(
read more
)
Source: slime.oofytv.set
---
Article on ACREQ (Quebec Association for the Creation and Research of Electroacoustics) concert program The Dangerous Kitchen. (read more)
More on this:
Concert program
united-mutations - The Dangerous Kitchen
Houston Press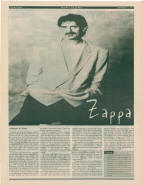 Source: slime.oofytv.set