Rave
Published by George Newnes Ltd in London,
Rave
magazine was an extremely successful UK pop magazine that has now reached well deserved cult status. When it launched in 1964 London's
Rave
was five times as expensive as it's competition and was printed on top grade paper with quality content and superb photographs by Jean Marie Perier, Terry O'Neill, Marc Sharratt etc.
Rave
magazine featured respected young women writers like Cathy McGowan, Maureen O'Grady and Dawn James. Not just a pop teen mag it also featured a wealth of fashion articles and featured lots of great beat, pop & rock groups like Pink Floyd, The Yardbirds, The Byrds, The Kinks, Rolling Stones, The Who, The Pretty Things & Jimi Hendrix.
Rave
magazine is a great example of youth culture & fashion in the swinging sixties. (
beatchapter.com
)
1967 September
The Big Pop Movement - Underground Groups
By Jeremy Pascall, pp 28-31
---
MOTHERS OF INVENTION:
Undoubtedly America's ugliest group but still beautiful people! Leader Frank Zappa is undisputed king of the freaks and freak-out. What they produce has been termed "dangerous nonsense" by RAVE's Mike Grant and hailed as a new art form by others. It is strange, weird and not really music as we know it. In fact, there are strong rumours going round that their album "Freak Out" was a send-up! The Mothers should be in England soon so we'll learn for ourselves. Like other underground groups the Mothers give out no information about themselves!
Source: 1960smusicmagazines.com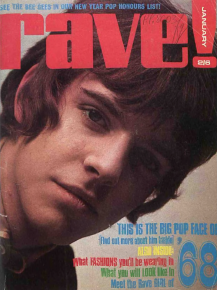 Rave's New Year Honours List
pp 4-11
---
Page 7:
To Frank Zappa of the Mothers Of Invention, for owning up that they're only a joke, and that he's only in the business for the money!
Source: worldradiohistory.com