Rhythm & Drums Magazine
リズム&ドラム・マガジン

Monthly music magazine "for drummers, percussionists & all the other players". Started in 1983 as a quarterly publication. Since 1990 issued bimonthly, and since October 1994 monthly. (
wikipedia
)
Issue 51
テリ一・ボジオ (Terry Bozzio)
pp 8-19
Interview
By Hatsue Fujibayashi, pp 8-12
Biography
By Bill Milkowski, p 12
Selected dicography
By Nunokawa Soshuji (布川・宗修司), p13
playing analysis
By Nunokawa Soshuji (布川・宗修司), pp 14-18
10 people questionary on Terry Bozzio
p 19

ポ一ル・ハンフリ一 (Paul Humphrey)
Interview by Takahashi Kayoko (高橋佳代子), pp 84-85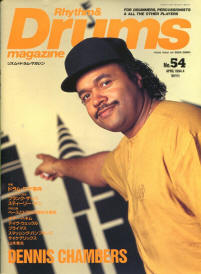 Issue 54
Frank Zappa Remembered
pp 63-73
フランク・ザッパの軌跡 (Career Overview)
By Mogi Takeshi (茂木健), pp 64-65
Memories Of FZ
Interviews with Chad Wackerman & Ed Mann by Suzy Yamaoka, pp 66-69
FZ追悼座談会The FZ Memorial Round Table
By Soul Toul, Suganuma Michiaki, Suganuma Kozo and Tomioka "Grico" Yoshihiro
(そうる透、菅沼道昭、菅沼孝三、冨岡"GRICO"義広), pp 70-71
FZ's Rhythm analysis
By Nunokawa Soshuji (布川/宗修司), pp 72-73

---
TAN Mitsugu: "On pp 72-73, you can find transcriptions of some drum phrases from FZ recordings, including 'Directly From My Heart To You', 'Titties 'N Beer', 'Blessed Relief', 'Manx Needs Women', 'Alien Orifice', 'Wet T-Shrit Nite', 'Inca Roads', 'Keep It Greasy', 'Catholic Girls', 'Toads Of The Short Forest', 'Tink Walks Amok', 'Dancin' Fool', and 'I'm A Beautiful Guy'."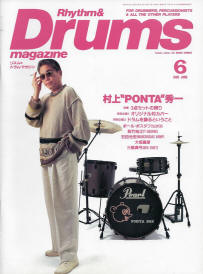 No. 6
Play This Song!: The Black Page Drum Solo / The Black Page #1 by Frank Zappa
By Suganuma Kozo (菅沼孝三), pp 60-63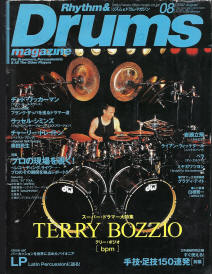 Issue 141
Exclusive! Special Long Interview in Germany: Terry Bozzio
By Matsumoto Daisuke with Kikuchi Izumi (Interpretation) and Kawahara Mariko (Translation). pp 14-21

Interview: Chad Wackerman
By Rhythm & Drums Magazine with Sakamoto Akira (Interpretation and Translation), pp 22-25

Drummers around Frank Zappa
フランク・ザッパを巡るドラマー達
By Suganuma Michiaki (菅沼道昭), pp 26-29

---
TAN Mitsugu: "Here's an excerpt from "Chad talks about FZ" (p 29):
It was an incredible experience to work with Frank. Actually he was a huge fan of Allan Holdsworth and invited him to his home many times, and there was even talk of a join tour of Frank's band and Allan's band. Unfortunately, it never happened. It was also Frank who recommended me to Allan, and I auditioned for his band. In the 80's, I spent most of my time touring with Frank Zappa, and in between I would tour with Allan's band. It was the best life I could have had as a drummer."