Rock Magazine
Biweekly in newspaper format from New York founded by Larry Marshak, the business manager of the Drifters, Cornell Gunther's Coasters, the Platters and the Marvelettes. First issued in August 30, 1969.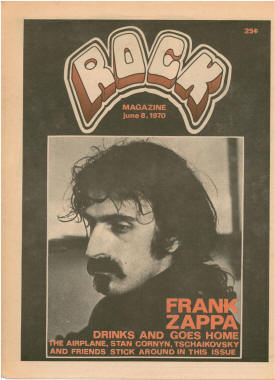 You're Probably Wondering Why I'm Here
By David Walley, 2 pp
---
Sandwiched between the Jefferson Airplane, Kent State massacre and nationwide paranoia sat Frank Zappa and the Mothers of Invention a few weeks ago. They were at the Fillmore East after a year's absence, billed at the "original" Mothers they weren't. Missing were Artie Tripp III, Bunk Gardner, Roy Estrada, and Jimmy Carl Black (the Indian of the group) that was a sign of something funny. All four sets went off as planned. The audience reaction was uniform, while Zappa's music was almost boringly entertaining.
There was something missing in performance, something missing in the whole concept of the Mothers, a spark of an admission of failure on the part of the Mothers and an almost equally disappointing admission on the part of the audience that they were prepared to look on the scene and not partake a normal state of affairs.
The last time I went out to LA, I spent about 17 hours with Frank at his rehearsal studio and at the Wadleigh-Maurice editing rooms where he was synching ten hours worth of Uncle Meat (that fabled movie which is both a chronicle of the Mothers from times past and a cinema verité treatment of Mothermania more precisely a view from Frank's head). (read more)
Source: slime.oofytv.set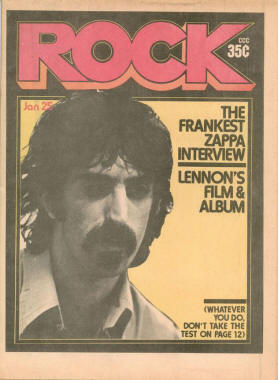 1971 January 25
Vol. 2 No. 13
I Dreamed I Interviewed Frank Zappa In My Maidenform Bra
By David Reitman, pp 14, 15, 31
---
Ever since I inadvertently became a rock and roll journalist, it has been my ambition to do the interview with Frank Zappa. Most interviews with Zappa failed, largely because the interviewers didn't know enough to ask him some really challenging questions or because they kissed his ass. I was going to avoid the latter, even though Zappa is one of my idols. I would plan the questions with great care, do the interview in privacy with good recording equipment. Ha. Anne Marie Micklo our managing editor looked at me one morning and said, "We've got an interview with Zappa, but we have to go right now." No time to go to my radio station (WKCR-FM) and get a Tandberg and an Electro Voice 663. No, we grab a crummy Panasonic cassette machine (mistake no. 1), I grab the three record reviews I have done of Zappa's music – Burnt Weeny Sandwich, Weasels Ripped My Flesh and Jean Luc-Ponty's King Kong (mistake no. 2) and head for Zappa's hotel in the rain.
When we arrive, there seems to be a great ambiguity as to when the interview will start and I annoy Zappa by setting up the microphone in front of him while he is eating (mistake no. 3). To break the ice, I give him my three reviews. He looks at them and says, "so you're the one who said that," referring to my review of Weasels Ripped My Flesh where I criticized one piece, "Prelude to the Afternoon of a Sexually Aroused Gas Mask," by saying we had heard Motorhead snork before and besides, Penderecki, Ligeti or Kenneth Gaburo could do it better (use of chorus). Zappa was pissed and he asked me to prove it. That did it, my ego was crushed. There was my idol and he was fucking yelling at me, yelling AT ME! I couldn't answer, I couldn't even speak. Zappa compared the snorks of Motorhead to the music of Jimmy Reed, a rather dubious comparison – Reed has worked longer and harder at his craft than Motorhead. Then he said the composers I mentioned would envy what he could do with a live chorus. In some cases perhaps, but in this particular case, never. (read more)
Source: slime.oofytv.set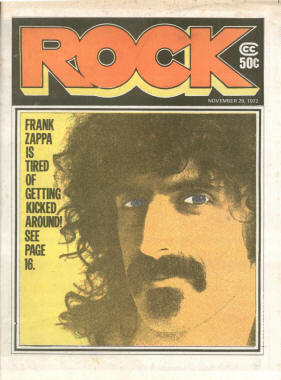 1972 November 20
Vol. 4 No. 11
Frank Zappa: If His "Friends" Could Hear Him Now
By Steve Peacock, pp 16-17
---
"... is called the Mothers of Invention / Hot Rats / Grand Wazoo for short. It's a 20-piece electric orchestra, and the group is only going to be together for a total of eight concerts. The Hollywood Bowl, the Oval, the Hague, Berlin, two days in New York, Boston, and back home."
"Have you decided against having a regular band now?"
"Pretty much, yeah. I think that of all the unreliable phenomena that exist in the 20th century, the musician may come up in first place."
"Unreliable in what way?"
"Just in unreliability. So, rather than keep something together to a point where it becomes 100 per cent unreliable, it's better to just put things in small doses and do a variety of things, because I'm interested in exploring a lot of different kinds of music and a lot of different textures, and I see no reason why it should not be possible to put together a 20-piece orchestra for one tour, and then if I feel willing to put myself through the work of putting together another group of a totally different instrumentation for another tour, then I'll do that.
"As a matter of fact as soon as I get off the road after this tour that's exactly what I'll do, put together another group. We have a tour lined up for the United States and Canada at the end of October." (read more)
Source: slime.oofytv.set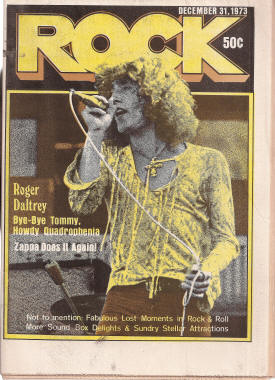 1973 December 31
Vol. 5 No. 9
A Conversation (?) with The Eternally Charming Frank Zappa
By Steve Rosen, p 13
---
Frank Zappa, like his music, is quite unlike anything the industry has ever come across before. When everybody else was still swooning with the pre-Pepper Beatles and when the market was being flooded with a rash of crassly commercial R&B groups, Zappa and his Mothers of Invention were turning out double records in fold-out jackets that would have made Varèse turn over in his grave. The best way to describe Zappa is "whatever is happening at the time, he won't be doing it." And certainly the 45-minute interview with the bearded Mother proved this point.
In journalistic circles, an interview is usually set up between an artist and writer to let the former talk about his current work, clear up any misconceptions which the public may have had about him, and just generally make known what he's about. Frank's stance, however, seems to indicate a dislike for interviews which is grounded on several reasons: first, he feels the interlocutor is not knowledgeable enough (in the area of music, most specifically) to talk intelligently with him; and secondly, he doesn't see any important reason for them. (read more)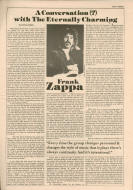 Source: slime.oofytv.set