Rock de Lux
Heir of
Rock Espezial
magazine. ( Probably started on 1985 & they wanted to pick up "
Disco Expres mythical spirit mag on the seventies but in eighties recycled on heavy
metal"
.) Always have mixed different music without forgetting the past but open to new tendencies". Nowadays includes a CD & very vanguard design focused on indie pop. (J.Marcote)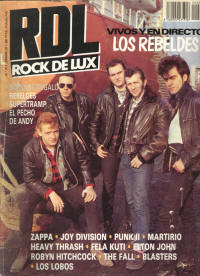 1987 February
No. 27
Highway to hell
By Julio Murillo, pp 60, 61

Jazz from Hell
By Quim Casas, p 62

Zappa y yo
By Moncho Alpuente, p 62
---
J. Marcote: "Zappa's phone interview by Julio Murillo at the time when Jazz From Hell was released. There is also a good article by Moncho Alpuente entitled "Zappa and me". He remembers the first time FZ came to Barcelona in 1974 Moncho directed "Mundo Pop" – a musical TV program – and went to airport at Zappa arrival. There is footage of his arrival when Zappa began his hilarious behavior, "kissing girls with glasses that had to be rescue by her parents, signing autographs to people who don't deserved and persist in traveling in the trunk of the car that he hoped". ( )
"An hour later, in a downtown hotel in Las Ramblas, I understand trying to do a smiling black musician who might have some problems if you turn insisted on the desktop giant joint that was prepared quickly. I fear that should explain not good, because I got their hands the honor of carrying the torch in the noses of smoky stretched maitre.
Floating on a cloud, I received the news that Frank, in person, not only was agreed that film part of the concert for free, but also thought dedicate a public issue of nine-minute.
In the epilogue of cursed encounter, and because of our precariousness technical means, got the message of Zappa and the sound of the concert with rudimentary handheld microphone with a very sharp sensitivity to capture the ambient noise. With tears in the moviola cut those images to save the embarrassment of that infamous sound." ( )
Source: Javier Marcote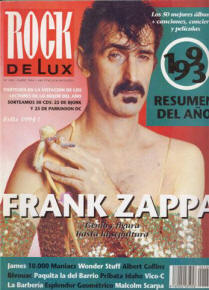 No. 104
---
Basic discography articles with pics of Zappa album covers by Quim Casas & Antonio Márquez de la Nogal selections.
Includes article "Retrato de un genio con orquesta" by Miguel A. Queralt.
Source: Javier Marcote