Rockmusik
Rockmusik
(full title
Rockmusik. Zeitung der AG Rockmusik / Hamburg
) was published by
Uli Rehberg
, musician and record label owner from Hamburg. Zine was started in February 1979 and ceased apparently in 1980. The print run was 200 as stated in
Rockmusik
#1.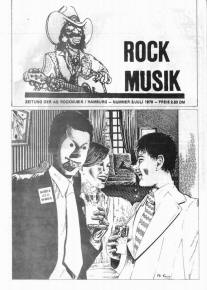 No. 3
Frank Zappa – Köln Stadthalle 29.3.79 Dortmund Westfalenhalle 25.3.79
By Ralf (from Aachen), p 38
---
Beside this concerts review you can find in this issue a 10-page article on Czechoslovakian underground in the end of 60s (pp 20-29), talking about bands like Plastic People of the Universe and The Primitives Group playing Zappa songs.
Full zine is downloadable as pdf at Tape Attack.

Source: Tape Attack