Seconds
Seconds, the all-interview rock culture magazine (1986-2000) "evolved from an essential Downtown New York underground music publication into the seminal source for definitive interviews with past, present and future icons of all musical genres."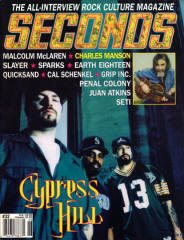 1995 May/June
No. 32
Cal Schenkel
Inteview by Steve Cerio
---
SECONDS: If you look at your covers for Burnt Weenie Sandwich or Uncle Meat, there was no other covers at the time quite like that –
SCHENKEL: Actually, Burnt Weenie Sandwich was done much earlier for another project when were still in New York, which was around the time of Lumpy Gravy and We're Only In It For The Money. It was done for a project that Frank got involved in with Alan Douglas. We were going to be supplying advertising and packaging for a little label that Alan Douglas was starting, Moop. There were some ads done – crazy comic strip stuff, very surrealistic. Then I did a series of covers – I don't remember what most of them were – but Burnt Weenie Sandwich was originally done for an Eric Dolphy album. Then at the last minute Alan Douglas backed out. That piece of art sat around for a couple of years and then Frank decided to use it. At the time he decided to use it, we had a minor falling out. I was out of the picture and he had this nice piece of art and decided to use it for Burnt Weenie Sandwich. (read more)
Source: happyhomelandstore.com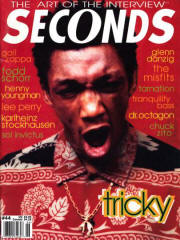 1997 September/October
No. 44
Gail Zappa
Inteview by George Petros
---
SECONDS: I'm very interested in you and I'm not trying to use you to get Frank Zappa anecdotes. Were you not the secretary of the Whiskey A-Go-Go?
ZAPPA: I was a secretary for the guy who owned the Whiskey. I worked directly for Elmer Valentine, yes.
SECONDS: And that was the point at which you met Frank?
ZAPPA: There was another girl who worked in the office part-time and did filing. I went to her house for dinner and, coincidentally, she shared a house with Frank. He called that evening and said, "I'm at the airport. Come and get me – and don't bring anyone." Of course, she disobeyed and brought me. I met him at Los Angeles Airport.
SECONDS: Was it love at first sight?
ZAPPA: Yeah. Well, I have to say I always knew I was going to meet someone extraordinary. I just knew that. (read more)
Source: georgepetros.com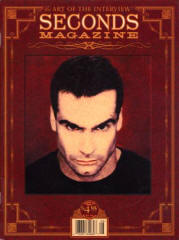 No. 51
Terry Bozzio: Prince of Percussion
Inteview by Steve Cerio
---
SECONDS: Did Zappa's vulgarity ever embarrass you?
BOZZIO: Not really. My head-space was the typical head-space for a Rock & Roll musician who's in a band fronted by a major personality like Frank. You sort of have the mentality that you're playing to get laid. For the most part, I took the position that I'm a player in a symphony orchestra, and he's the conductor. Whatever he wanted to do, I'd go for it. I just wanted it to be as great as it was. It's like, if he's doing it, and he that smart, and he's that funny, and he's that cool, why not? He set such a good example – we had a ball. It always just seemed like: this is the way real people talk, and these are the real aspects of humanity that most people repress, so what's the problem? (read more)
Source: happyhomelandstore.com