SoCal
Weekly magazine of the
Daily Trojan
, University of Southern California.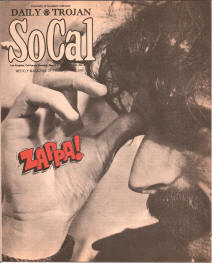 Vol. 60 No. 81
Frank Zappa
By John Lannan, pp 3-5
---
Frank Zappa is probably less of a disappointment to his parents and the grammar school teacher somewhere, whose favorite he once was, than he is to the love generation which enthusiastically consumes his music.
Frank writes and arranges most of the music played by his group, the Mothers of Invention. It is the loud, seemingly unstructured kind of rock that is the principal art form of the psychedelic subculture. To the unattuned ear it is weird, grating and distasteful. But then Zappa does not write for the general public, nor do the Mothers play for it.
The Mothers of Invention are everything a rock group should be. They scream and gyrate and spew four-letter words. Their songs abound with sexual reference, they wear tight pants and beads and have long hair. They look like they smell bad. Even the most enlightened parent must secretly cringe.
But Frank Zappa is not everything a rock musician should be, particularly one who is known for packing more shock value than most. Zappa is a letdown for the public which wants to be appalled by the freak whose mind has been rendered useless by several thousand LSD trips.
You expect Zappa to be way gut, to mumble meaningless things about 'peace and "love," to say "wow" and address his listeners as "baby." Rock musicians are as predictable as John Wayne dialogue: they're always stoned. Everyone knows that.
So, when Zappa appears, as he did here last week at the Festival of the Arts, you feel a little cheated because he does not have glassy eyes and does not advocate overthrowing the government. (read more)
Source: slime.oofytv.set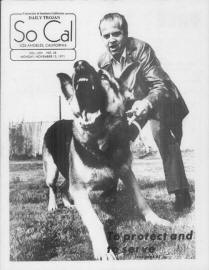 1971 November 15
Vol. 64 No. 38
The Future Of Concert Music And The L.A. Philharmonic
By Mike Mitchell, pp 23-25
---
The world of rehearsal studio number three in the Los Angeles Music Center is unique and in every way sheltered from the huge city which surrounds it.
The 100 members of the L.A. Philharmonic Orchestra, minus the concert hall formality of black tie and tails, ponder the music they will be performing over the weekend.
The studio is silent as Zubin Mehta, music director and conductor of the Philharmonic, discusses a passage from Charles Ives' first symphony – a dynamic change for the violins, a suggestion to the percussion section. Then, in an instant, there is the full, beautiful sound of 100 instruments in perfect harmony. (read more)
Source: Javier Marcote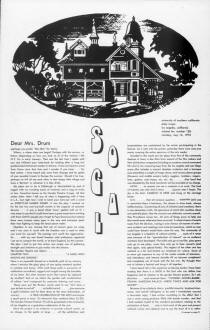 Vol. 65 No. 126
Filling The Hall With Music
By Pat Mott, pp 4, 10
---
This article is on Zubin Mehta. Zappa-related part follows:
Mehta has demonstrated his willingness to receive and perform new works repeatedly, one of the most unusual and most publicized occasions being his joint concert at Pauley Pavilion with the rock composer Frank Zappa and The Mothers of Invention. The concert captured national attention and received a substantial write-up in Playboy.

"It was more of a happening than anything else," said Mehta. "We didn't do a completely rock concert, though. We played little bits of Stravinsky's The Rite of Spring, among other things. But basically it was a concert dedicated to the premiere of Frank's piece and it was, I suppose, successful.

"Frank Zappa is, I think, one of the most sincere musicians in the sense that he is practically self-educated. He has really done it out of his own desire. Nobody pushed him towards it. And for that reason it was enough to do this guy the honor of playing his work."
Source: Javier Marcote