Songwriter Connection
Magazine founded by Michael Dolan, who also started the
Music Connection
magazine.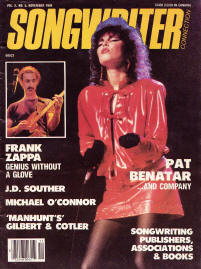 1984 November
Vol. 2 No. 5
Frank Zappa
An uninhibited interview with the gloveless rock genius
By Gary A. Shay, 5 pp

---
SW: Sorry to wake you...
Zappa: It's okay... I knew I had to get up to do this. It's just that I worked until about seven o'clock in the morning.
SW: Working on a new composition?
Zappa: No, I was working on something more boring, the liner notes. Before I go on the road I have to finish production on five albums (Yawning). One of them is the new rock & roll album which is called Them or Us, I finished those notes the other day. There's a three-record box called 'Thing-Fish '... there's a single disc of "The Music of Francesco Zappa" ...there's the first of the multi-record boxes of the old masters. Had to write a book for that one. And then there's the Boulez album, which Angel is putting out, and I'm supposed to have those notes done by tomorrow. (read more)