Sweet Potato
In August 1979 launched independent music tabloid, that covered local music scene in Minneapolis, Minnesota. The publication went weekly in 1981 and took it's current name City Pages.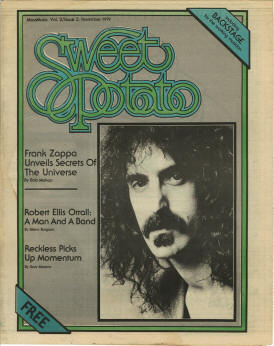 1979 November
Vol. 2 No. 3
Frank Zappa Unveils Secrets Of The Universe
By Bob Mahon, pp 10-11, 16
---
Bob Mahon: Initially I would like to talk to you about some of the opinions you express on your new album regarding society's attitude toward music. How realistic do you think the idea is that because of the "unwanted behavior" which music brings about, the government or whatever institutions are in control would try to stop music from being made?
Frank Zappa: It's not out of the question, I don't think, because you see it's already happening in Iran, and it's totally controlled in the Soviet Communist countries. You know what kind of music they get to hear over there. So when you consider the bad management our country is famous for during the last few years, I don't think it's too far-fetched to imagine somebody could get in and go and do the same thing here.
(
read more
)
Source: slime.oofytv.set