Synapse
Synapse
was an electronic bi-monthly music magazine published 1976-1979, in total 12 issues. (
cyindustries.com
)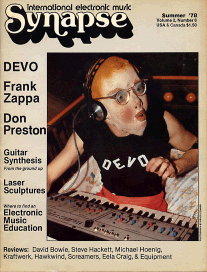 1978 May / June
Vol. 2 No. 6
Frank Zappa
A Mother Speaks Frankly, Pt. I
Interview by Chris August, p 25

Don Preston
Synthesist
Interview by Doug Lynner, pp 34,35
---
Chris August: How were you able to get a recording contract, how were you able to get on Verve?
Frank Zappa: That was an accident. We had gone around to all the record companies, shopped our demos around and done all the things that a new group does in Hollywood to get somebody at a record company to listen to them, and been turned down by everybody. And finally this guy, Tom Wilson, who was the producer at MGM, was down the street at one club while we were working at the Whiskey a Go-go, and he was induced to be dragged away from his lady friend and come down and see us play just for a moment. And he walked in while we were playing the Watts Riot Song. (read more)
Source: cyindustries.com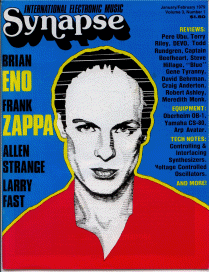 1979 January / February
Vol. 4 No. 10
Frank Zappa, Pt. II
Interview by Chris August, pp 31,35

Captain Beefheart, Roxy, L.A. October 27
By White Collar, pp 20, 22
---
Synapse: What do you think of the potential of the synthesizer now that you've used it as a guitarist? Do you think it's going to be as accepted by the guitar player as it is by the keyboard players?
Zappa: Here's the thing that really sucks about synthesizers: you get a guy a Minimoog, and the first thing the guy wants to do is sound like a guitar player. Invariably. Every keyboard player has always wanted to bend notes all of his life. Now he can push the wheel and go wheeeee! and suddenly he thinks deep in his heart he's a lead guitar player. That sucks. Now you've got guitar players that always wanted to have clear attack, and they figure that if they plug into a synthesizer they're going to get clear attack; but the things don't trigger right, so that sucks. (read more)
Source: cyindustries.com