TeenSet / Aum
Publication, owned by Capitol Records. The hippest of the teenmags. (
Janey Milstead
)
TeenSet Magazine
was one of the most popular U.S. music magazines of the 60's. By the year 1967 it had grown into a thoughtful, well-written publication with a nice balance of hippie idealism and teen fan enthusiasm. (loufar4 @ eBay)
TeenSet
("The nifty music magazine with the misleading name") changed it's orientation and name to
Aum
(America's Underthirty Magazine) in April 1969. The last issue under the old name in March was titled with question mark –
TeenSet ?
– to denote this coming change. Ceased shortly after that. (
thedoors.com
)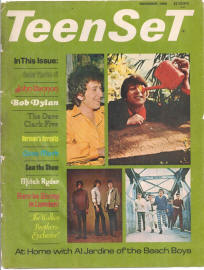 1966 November
Vol. 2 No. 6
Hollywood Group Scene
By Sue Cameron, pp 42-43, 57
---
Excerpt from p 42:
Without a doubt, the wildest of all the groups is the Mothers, who record for MGM Records. They have made a name for themselves playing back and forth between Whisky and The Trip. They actually consider themselves a group of singing social workers exercising free speech through music. They have found that through music they can speak more freely and reach more people.

Their motto is this: "We, The Mothers, promise to assist whatever public we come in contact with, in a swift and orderly return to realistic values."

Members of the Mothers are Frank Zappa, lead guitar and singer; Ray Collins, lead singer, harmonica, tambourine; Jim Black, drums; Roy Estrada, bass guitar; and Elliot Ingber, singer, rhythm guitar.

The Mothers consider most people of today to be "Plastics." They say that the Plastics have no respect for the finer things in life, no concern for mankind — no soul. When the Mothers sing, they sing to the Plastics.

Example of their lyrics: "Take your little white plastic boots and melt them down and send them back to the shoe store ..." Yes, the Mothers are unique and original and fantastic. Pick up their album, "Freak Out," and you'1l really know what's happening.
Source: Smiley Smile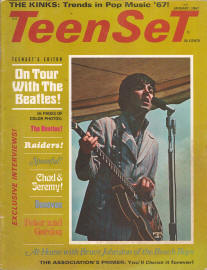 Vol. 3 No. 1
Fifty-Four Fab, Boss Questions
By Michael Vosse, pp 46-47, 60-61

ZOWIEWOWIE
[not to mention Gloriosky Zero] NOW YOU (YES, LITTLE YOU) can win a personal telephone call from Frank Zappa [whoever he is], p 48
---
Well, that session and subsequent visits to concerts, and finally the release of the lavish two-lp "Freak Out" album sold me on Frank's iconoclastic group. Meeting and talking to Frank personally three or four times always resulted in heavy talk and listening to his amazing collection of electronic music. One day I found out that everybody takes Frank so seriously no one has ever asked him the usual "fan" questions. So one night Frank and I got together with a bunch of fan magazines and picked 48 questions which he answered. So here they are, and here is the incredible living ZAPPA! (read more)
Source: Smiley Smile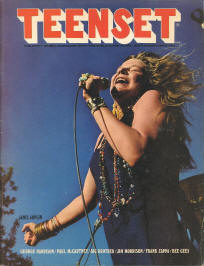 1968 September
Vol. 4 No. 9
That's Funny, You Don't Look Like The Musician Of The Year
By Jerry Hopkins, pp 14-18, 58
---
Frank Zappa, head Mother of the Mothers of Invention, was taking visitors on a tour of his new Los Angeles home.
"This is the bowling alley," he said, pointing to a real bowling alley in the basement.
"And this is the vault, where we will pile up all our hard earned teenage money," he said, pointing to a real vault (right next to the bowling alley).
"People say there is a horse buried down here," he said, pointing at nothing in particular. (read more)
Source: zappateers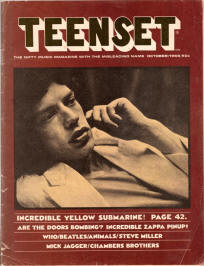 Vol. 4 No. 10
Centerfold "Incredible Zappa Pinup!"
Vol. 5 No. 3
Bizarre Isn't The Word ...
By Dave Swaney, pp 16-19, 61
---
Frank Zappa's freak show invades the straight business world. The straight business world isn't ready for this.
The Wilshire Boulevard address is the tipoff something unusual is going on, but it doesn't grab you until you arrive and dig the building, one of those 1950s pastel aluminum and glass horrors that house the soul of Los Angeles' plastic ethic, along what some L.A. Chamber of Commerce whiz titled the Miracle Mile.
The lobby is your standard, airy, light marble and more aluminum blah (everything is so clean) with the standard aluminum-cased directory with little plastic letters all arranged alphabetically, and there all alone at the bottom of this long list of names of companies and individuals, all by himself, the only Z in the building, is Frank Zappa. Up in the middle of the B's is Bizarre Records. (read more)
Source: zappateers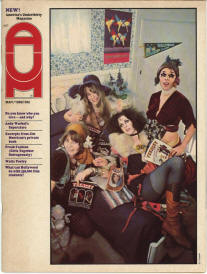 Vol. 5 No. 4
Freak Fashion
pp 30-33