The Baltimore Sun
The Baltimore Sun
is the largest general-circulation daily newspaper based in the American state of Maryland and provides coverage of local and regional news, events, issues, people, and industries. Founded in 1837
.
(
wikipedia
)

Sun Magazine
is the Sunday magazine of
The Baltimore Sun
.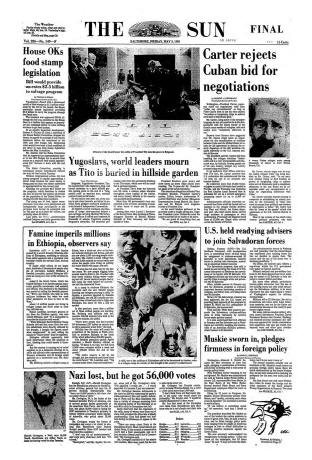 When Zappa got off on Stravinsky
By Stephen Cera, pp B1, B6

Frank Zappa has a famous rock cousin
By Rafael Alvarez, pp B1, B6
---
[1] I was a junior at Pomona then, and was spending a good deal of my time practicing the piano. A few days before the concert, Franks people passed the word to the chairman of the college social events committee that Frank wanted a little classical music to warm up his show, preferably some Stravinsky. The committee asked if I was interested in providing it. (read more)
[2] Francis Xavier Zappa, 26, works at the Giant Food store on Loch Raven boulevard. He will be moving to Seattle at the end of the month to enroll in scuba diving school. He's one of many Zappa relatives living in the musician's hometown of Baltimore. (read more)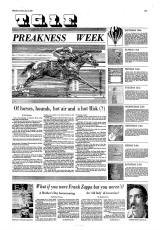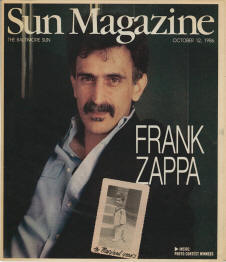 1986 October 12
Frank Zappa: The Maryland Years
By Rafael Alvarez, pp 10-11, 16, 18-22
---
IT WAS THE POSTER OF FRANK SITTING ON A TOILET BENEATH THE LEGEND "Phi Zappa Krappa" that did it.
The year was 1968, summertime, and I was a 10-year-old fifth-grader on vacation with my family in Ocean City. With long-haired, freaky hippies and psychedelic music grooving everywhere, it was hard to act hip wearing Bermuda shorts and a peach-fuzz wiffle haircut.
But the image of this strange, nearly nude man hanging from a Boardwalk souvenir shop provided yet another opportunity to jab the rock 'n' roll needle into my parents' sensibilities.
The poster — and the brush fire of scatological rumors about Zappa that grew fat and far beyond such indiscretions as being photographed on the john — went a long way in turning my head. (read more)
Source: slime.oofytv.set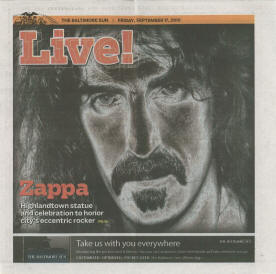 2010 September 17
Zappa Days
By Erik Maza, pp 14-15
---
At the corner of Conkling Street and Eastern Avenue in Highlandtown, a head looks over the neighborhood like a bodiless sentinel. The olive-toned, mustachioed bust takes in a colorful panorama: a pizzeria to the north and a pawnbroker to the west. Starting this weekend, when you hock that gold watch or grab a quick slice of pizza, Frank Zappa will be watching. (read more)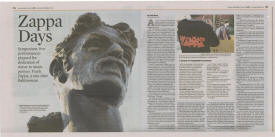 Source: slime.oofytv.set