The Digger
Underground monthly
The Digger
was published 1972-1975, 48 issues in total. (
www.milesago.com
)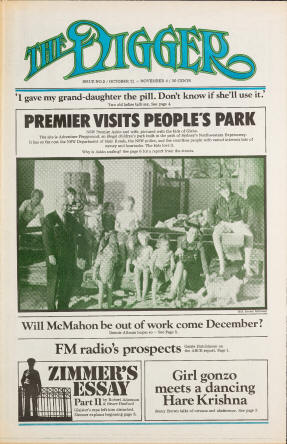 1972 October 21 - November 4
No. 5
A letter to Unka Frank, MCP supreme
By Jenny Brown, p 11
---
Mothers – Live At The Fillmore – Reprise MS-2042. What Kind of Girl Did You Think I Was? O, Mister Frank-The-Yank Zappa, you are my Favourite Male Chauvinist Pig of 1970, 1971, and 1972. Because you do it with flair. And let's face it, we're all screwed in one way or another, but which of us is ready to show our glorioso, monstrous selves to the General Public? (read more)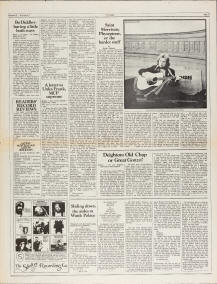 Source: University of Wollongong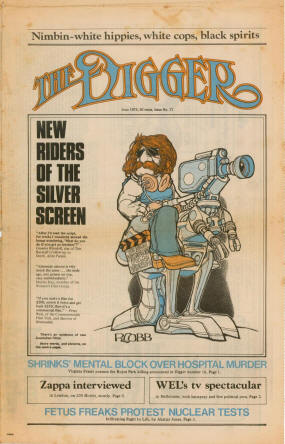 No. 17
Zappa Talks Movies
By Ian Pollack, p 9
---
This interview took place in a room at The Royal Garden Hotel, London, late last year, in between a few phone calls and knocks on the door. Sometimes Frank's answers come out like the computerised language of his Press kit and sometimes, folks, he seems almost human. Either way, all those figures are in his head.
Zappa talks to Ian Pollack – mostly about Zappa's film 200 Motels, a film Pollack describes as "a zany sound/visual barrage which comes at you with the speed of light shows and the fragments of dreams." (read more)
Source: slime.oofytv.set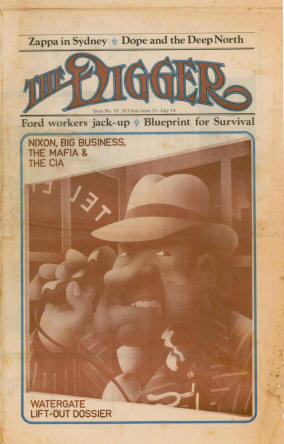 1973 June 23 - July 14
No. 18
Here, anybody want to do it with this giraffe?
By Aleks Danko, Ron Saunders & Pat Woolley, p 3
---
We had arrived with Sony half-inch video portapack equipment to do a videotape interview with Frank Zappa. We found that the most suitable lighting conditions were in the kitchen. Zappa said he'd do the interview in the kitchen. At 6.50 pm. Zappa came through the swinging kitchen door, the Grand Wazoo blasting through in the background; and politely told us that videotape or film was out of the question. Stills yes, but not movie film for private purposes. There was 'no way around it. Having had trouble with exploitation of his image on several occasions in the past, Zappa had made it quite clear to his manager that publicity of any sort related to media information had to be controlled, so that misrepresentation of his image wouldn't happen again. (read more)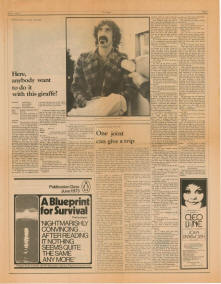 Source: slime.oofytv.set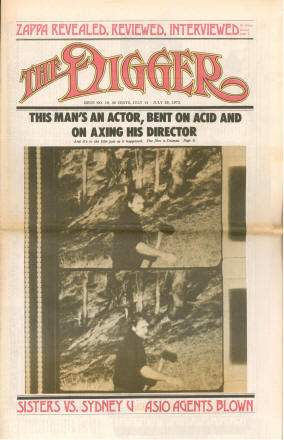 1973 July 14-28
No. 19
(1) Zappa a go go
By Jennifer Lois Brown, p 3

(2) After Grand Wazoo – where to?
By Alan Watson, p 3
---
(1) At the Melbourne press conf. for the Mothers of Invention, a Scotch 'n' Coke crowd swill amongst and to the band in the American Dream of St. Kilda Road's Distillery discotheque ... mafiatic golden mean.
"Hey! A picture of Nixon would look really neat on the wall here, don't you think?" inserts Frank. (read more)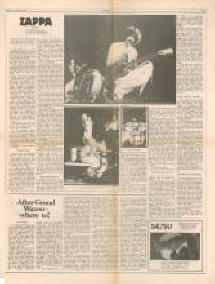 Source: slime.oofytv.set