The Great Speckled Bird
The Great Speckled Bird
was a counterculture underground newspaper based in Atlanta, Georgia from 1968 to 1976. It was founded by New Left activists from Emory University and members of the Southern Student Organizing Committee, an offshoot of SDS. The first issue appeared March 8, 1968, and within 6 months it was publishing weekly. By 1970 it was the third largest weekly newspaper in Georgia with a paid circulation of 22,000 copies. (
wikipedia
)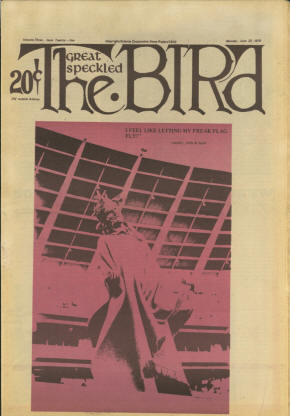 Vol. 3 No. 25
Cosmic Ripoff
By Miller Francis, Jr., pp 12-13, 19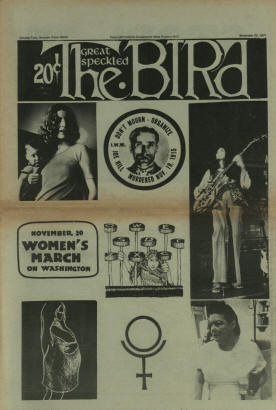 1971 November 22
Vol. 4 No. 47
200 Motels
By Tom Harper, p 7
---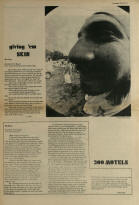 If, fourty years from now, my grandchildren come and ask me what movie they should see to understand what the 1971 primitives were really like, I think I tell them to see 200 Motels. Woodstock was too wholesome, the music, the people, even the mud. Altamont was much the same except that it included the violence and frustration bubbling at the edges. Motels is the real Woodstock of Frank Zappa's mind. And though "we're all doing our best to deny it," a lot of the things in Zappa's head are typical of what's in a lot of our heads. (read more)
Source: voices.revealdigital.com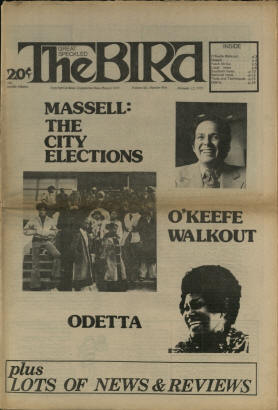 1972 February 12
Vol. 6 No. 5
No Commercial Potential (review)
By Chris McDaniel, p 13
---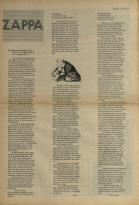 No Commercial Potential by David Walley. (Outerbridge and Lazard, Inc.) 184 pages, $6.95.
This is a book about Francis Vincent Zappa, Jr., born of Sicilian-Greek parentage in Baltimore, Md., December 21, 1940, who graduated from Antelope Valley High School in 1958 and went on to become the one electric-symphonic-jazz-rock musician/composer/sociologist about whom it can be said that no one is ambivalent It is a tale told by an idiot, but unfortunately without sound or fury.
Source: Independent Voices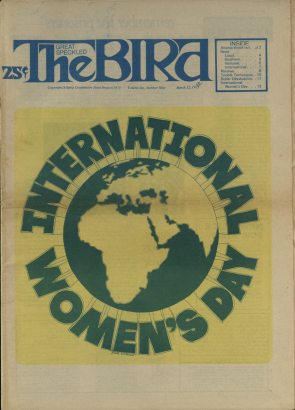 1973 March 12
Vol. 6 No. 9
Mother Music
By Chris McDaniel, p 8
---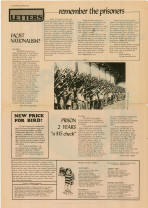 If you were at the auditorium Monday night [February 26], you don't need this review to tell you what happened. The rest of you missed a performance by seven of the rock world's best musicians that will not be equaled for a long time to come. These seven were, of course, Frank Zappa and the Mothers of Invention.

The evening began with an unfortunate yawn as Dr. Hook and the Medicine Show stumbled around stage pretending to be drunk. They sang a few funny songs; "High Flyin Eagle", a blues parody, was especially good. But mostly they cracked high school sex jokes (I think they are a bunch of high school sex jokes) while the guy with the eye patch made ludicrous pseudo-masturbatory gesticulations. I hope their show was meant as a parody of rock shows. They couldn't (could they?) be taking themselves seriously.

Their show was mercifully short, and, after a while was wasted clearing the aisle of clods who refused to sit down, the Mothers came on stage. But the first few minutes of the Mother's set was marred by problems with the sound equipment, and that's another reason why Dr. Hook could and should have been dispensed with. Because they had to set up their equipment quickly after Dr. Hook was finished, they didn't have time to do it right and so had to spend the first half of the show making adjustments. Why do promoters book a lousy group to play before the main attraction? It would work out much better to present just one group at a time so that technical problems could be worked out before showtime.

Be that as it may, once the Mothers began their performance there was music in the auditorium. Zappa did-his usual virtuoso job on the guitar, and the Underwoods, Ian on flute and sax, Ruth on xylophone, were in good form. Each song was built on a ''theme and variations" basis in which the whole group played at first, and then each soloist took his turn working out a variation on the original theme. No one hogged the show; even the drummer worked out a long solo.

Most of the music was new, including a song about the mind-control possibilities (and realities) of television. The only old material used was "Dog Breath" from the album Uncle Meat, which came early in the show and so was marred by the aforementioned technical problems. The high quality of the new material indicates that Zappa is still the most interesting and musically advanced composer around today.

Another thing all of us who are tired of publicized but talentless rock groups can be grateful for is the fact that a Mothers concert is a musical performance and not a circus. The Mothers don't use, because they don't need, gimmicks to attract and hold an audience. No on-stage hangings, no acting drunk or stoned, no strip-tease; just good music well played. Let us hope the Mothers will come back soon.
Source: slime.oofytv.set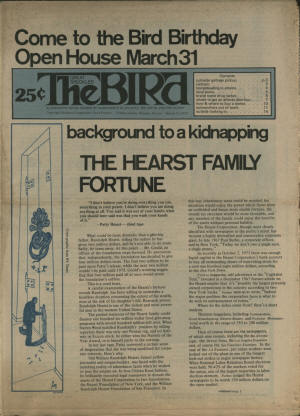 1974 March 25
Vol. 7 No. 12
Zappa: "there are all different kinds of crazy"
By ?, pp 9, 16
---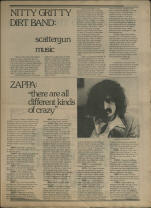 Confusion: Zappa is coming to town and we're trying to set up an interview. On Wednesday the word is he's going to hold some sort of press conference before the concert Friday night, so I'm expecting to get in maybe 3 or 4 questions. Friday afternoon at 2:45 we find out we're to meet Zappa at the Regency in 15 minutes for a private interview. I run out of gas on Ponce de Leon. We arrive at the Regency an hour late for the interview. I start by explaining why we're so nervous. Zappa is patient if not sympathetic. (read more)
Source: Javier Marcote