The San Bernardino Sun
The San Bernardino Sun
is a paid daily newspaper in San Bernardino County, along with a heavy penetration into neighboring Riverside County. (
wikipedia
)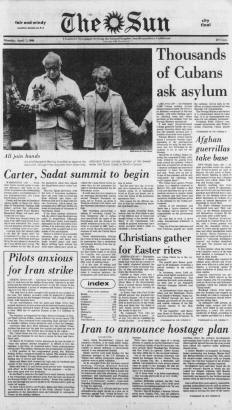 Frank Zappa remembers San Ber'dino
By Mark Lundahl, pp B7, B9

Zappa sings medley of the unknown
By Mark Lundahl, p B7
---
"I don't have too many fond memories of San Bernardino."
Frank Zappa, rock guitarist, composer, arranger and bandleader, is familiar with the inland Empire.
But that doesn't mean he likes it. (read more)
Source: Javier Marcote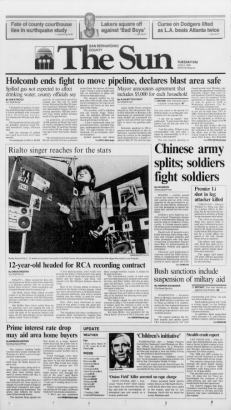 At 48, Zappa isn't afraid to face the music
By Bo Emerson, pp D1-D2
---
On a recent sunny afternoon, Frank Zappa is at home listening to tapes of Soviet musicians, made during a recent trip to Russia, and thinking about bombs. Not the nuclear kind. The homemade variety.
"You see this?" says the smiling musician, holding up a film canister packed with severed match heads and ground-up crayons. "This is a little bomb. I found my son, Ahmet, 14 years old, trying to light this thing last night." (read more)
Source: cdnc.ucr.edu