The Stanford Daily
The Stanford Daily
is the student-run, independent daily newspaper serving Stanford University.
The Daily
is distributed throughout campus and the surrounding community of Palo Alto, California, United States. It has published since the University was founded in 1892. (
wikipedia
)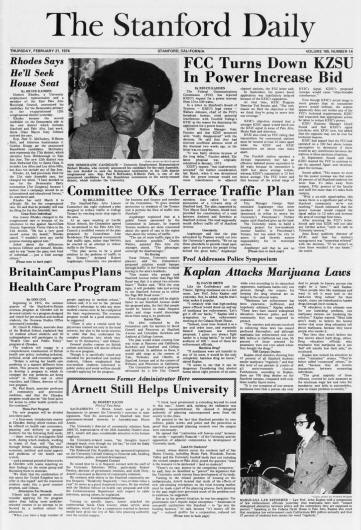 1974 February 21
Vol. 165 Issue 14
Zappa Wires Crowd
By Andrew Willard, p 4
---
The concert had already started as we zipped through a recent earth aberration, San Francisco, on our way to Berkeley, where another upheaval took place.
The Berkeley Community Theater is an ideal scaffold from which to hang Frank Zappa and the Mother's of Invention. The architecture, particularly the walls, creates a continuous and static ripple, much like Zappa's high-powered current, a spasmodic electricity that grips the audience from the moment he first gyrates onto the stage. (read more)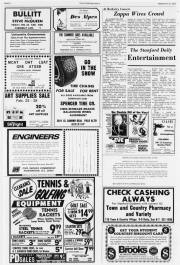 Source: stanforddailyarchive.com