Triad
"The midwest's largest free magazine"
Triad
was published monthly by "underground radio" station WXFM in Chicago.
In 1970 WXFM became the home of "Triad Radio," a show that had originated on WEAW-FM in Evanston and featured a free-form album rock format. The show's irreverence and wide variety of musical styles would draw attention and listeners; introducing young Chicago ears to many new and unique bands. Hosted by the very hippish Saul Smaizys, Triad would gain cult status as the epitome of non-conformist radio. (
wikipedia
)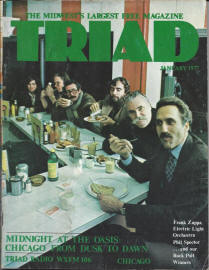 Vol. 5 No. 1
How Frank Zappa Runs His Rock Orphanage: No more Mothers, no more Invention?
By Nathan "Detroit" Roth & Cary Baker, pp 12-15

---
What does Frank Zappa have to be thankful for? Good friends and family on Thanksgiving Day? Nope. The weekend off, to be spent unproductively basking in the tropical sun? Hardly. While you ate turkey and caught up on the family doings and listened as your uncle expounded on how a Carter administration means fire and brimstone to the economy, Zappa sat in his hotel room high atop the Magnificent Mile trying to get his espresso machine to grind. (read more)
Source: slime.oofytv.set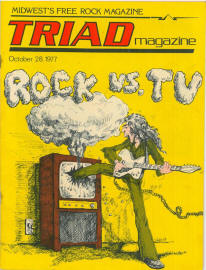 1977 October 28
What's A Mother To Do?
By Ken Paulson, pp 18-20

---
Although Zappa maintains his present band is "the best musical ensemble I have ever had the pleasure of unleashing on that jaded, disgusting world of Pop music," Zappa believes most of it is wasted on his audience.
"Well, they do derive something from it," Zappa explains. "It's just like in America, the reading comprehension is so low that it's hard to think of America as a literate country, but people do read. That doesn't mean they comprehend what they read. Americans also listen to a lot of records, but that doesn't mean that they know what they hear or hear what they listen to." (read more)
Source: slime.oofytv.set