United Entertainment Preview
United Entertainment Preview magazine is United Airlines in-flight magazine containing information about video and audio programs.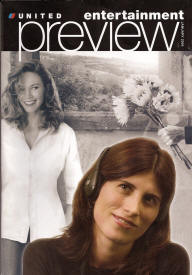 ---
Audio channel programmed with FZ ... was once available:
zappa.com/stufftoget/audio/m3u/zappa_rockunited.m3u
The Uncle Frankie Show "premiered" on an United Airlines in-flight audio program in January of 2003. primarily made up of a radio show FZ had done out of Claremont College in the 1960's mixed with some tracks put in by the Vault and some suggested by Dweezil. Diva and Ahmet as DJs....
Source: slime.oofytv.set