VPRO Gids
Weekly program guide published by VPRO, Hilversum, The Netherlands.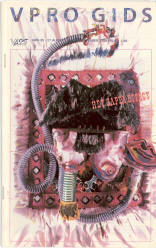 1988 August 27 - September 2
No. 35
De Groucho Marx van rock 'n' roll
By Rob van Scheers, pp 3-7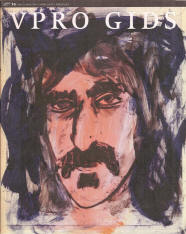 2007 April 21 - 27
No. 16
Frank Zappa
Docu: A Pioneer of the Future of Music
By Gijsbert Kamer, pp 8-9, 19
---
BBP: "article about 'a pioneer of the future of music', especially concerning the trickiness of obtaining archive material; the article suggests the documentary is not critical dealing with fz's private life in order to keep peace with gz, none of the events in the film are accompanied by the date on which it happened, & parallels fz, the film shows the emptiness fz left behind by frank, and how dweez has surrendered his musical identity, also, 5 recommended albums to start with, calling joe's garage his last real good rock album, brief cal schenkel bio, outline of all the documentaries in Zappa Dossier @ hollanddoc.nl."
Source: slime.oofytv.set