WOM
WOM
(world of music) is a free monthly magazine of the record store chain WOM.
WOM Magazine
, formerly
WOM Journal
, with the print-run of about 250 000 copies is the music magazine with the highest penetration rate in Germany (2005).
www.wom.de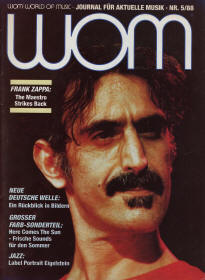 1988 May
Zappa
ed., p 14
---


The promo article about Jazz From Hell and coming 1988 concert tour.