ZigZag
ZigZag
was the name of a cutting-edge UK rock music magazine. Started in 1969 by
Pete Frame
the magazine was famous for its thorough interviews, well-researched articles, innovative "rock trees" ... and taste in American songwriters ... (
wikipedia
)
The first issue was April 1969 ... I called it
Zigzag
after the Captain Beefheart track Zigzag Wanderer and also the cigarette papers, which were used for rolling joints ... I kept it going until issue 30, then went off to do other stuff, but I came back for numbers 59 to 74, but then left again when punk came in. (
Pete Frame
)
In total 134 issues, Apr 1969 - Feb 1983. Britain's best rock magazine of the period. Its success owed much to its adaptability and willingness to shape and reflect changing tastes in music, taking punk in its stride, and successfully mixing genres. (
BeatBooks
)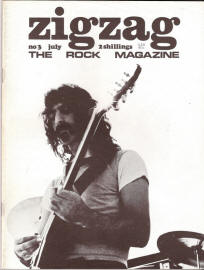 No. 3
ZigZag Unzips
Frank Zappa interviewed by Dick Lawson at Royal Albert Hall, pp 4-7
---
Over the last year or so, you have been thrust by the press into a position where you are an 'attitude spokesman' for what is happening in the States, which is presumably why you were asked to lecture at the L.S.E. the other day. What exactly happened?
I wound up speaking to a large number of unfortunately misdirected young people.
Who were expecting something political and sociological to come up?
I gave them something political and sociological. The only problem was, it didn't agree with what they thought the tactics for a youth revolution should be. And I can't buy their tactics because I think they're juvenile.
They were sort of trying to bring the Berkeley thing over here?
Yes, much in the same way as they imported "Flower Power". (read more)
Source: slime.oofytv.set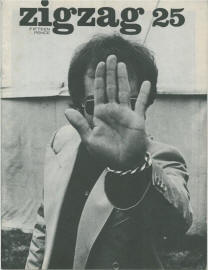 No. 25
The Mothers: Just Another Band From L.A.
By John Tobler, pp 14-15

Just A Few More Bands From L.A.
Tree by Pete Frame, pp 16-19
---
Since this interview was recorded – way back in December – Howard Kaylan and Mark Volman, after months of inactivity due to Zappa's Rainbow accident, have formed and recorded with another group; The Phlorescent Leech & Eddie. Though full details are not available, it is assumed that this is only a filler until The Mothers get going again.
Anyway, to the interview. Rather than dwell on the Mothers/Zappa aspects for too long, we chose to delve into the Turtles a bit too – since they're one of our favourite sixties groups. The interview is between John on one side, and Howard and Mark on the other.
Source: slime.oofytv.set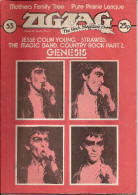 No. 53
The Earliest Days Of The Mothers – Just Another Band From L.A.
Tree by Pete Frame, p 23
---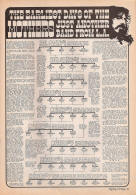 In terms of fax and info, this is hardly the most spectacular family tree we've printed in ZigZag, but on the other hand it does offer a detailed chronological breakdown of the Mothers' pre-fame incubation period – complementing the more recent history depicted in ZigZag 25.
All quotes are Frank Zappa's, "lifted from an obscure interview he did in Spring 1968."
* * *
For subsequent Mothers/Zappa activities, see ZigZag 25.
Drawn by Pete Frame in May 1975 for ZigZag 53.
For Urban Gwerder, Craig Pinkus and July – you're still some woman.
Source: slime.oofytv.set