1971 clippings
Zappa Prepares 9-LP Anthology of 'Mothers'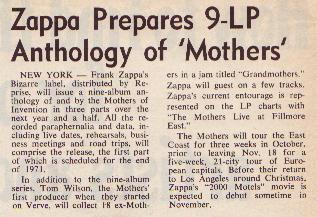 NEW YORK – Frank Zappa's Bizarre label, distributed by Reprise, will issue a nine-album anthology of and by the Mothers of Invention in three parts over the next year and a half. All the recorded paraphernalia and data, including live dates, rehearsals, business meetings and road trips, will comprise the release, the first part of which is scheduled for the end of 1971.
In addition to the nine-album series, Tom Wilson, the Mothers' first producer when they started on Verve, will collect 18 ex-Mothers in a jam titled "Grandmothers." Zappa will guest on a few tracks. Zappa's current entourage is represented on the LP charts with "The Mothers Live at Fillmore East."
The Mothers will tour the East Coast for three weeks in October, prior to leaving Nov. 18 for a five-week, 21-city tour of European capitals. Before their return to Los Angeles around Christmas, Zappa's "200 Motels" movie is expected to debut sometime in November.
Source unknown.
THE MOTHERS OF INVENTION
Pauley Pavilion, UCLA

Like most Frank Zappa concerts, the very well attended evening at UCLA's massive Pauley Pavilion started off as if it was going to be one of the great events of avant-garde pop music and ended with a certain amount of listener fatigue due to the sheer complexity of the music being presented.
In every department, Zappa's material is more effective in live concert than ever. The music itself has always been remarkable, an uninhibited blend of rock, jazz and atonality. But now the surrealistic lyrics Zappa writes are much more controlled and focused on some larger topics of the day. The leader of the Mothers has himself become much better at conveying his work to an audience. He has dropped his pose of onstage hostility and rapped to the crowd of approximately 10,000 with the ease of a living-room conversation.
At this point, Zappa has stripped down the instrumentation of the Mothers to guitar-bass-drums and two keyboards, one doubling on reeds. But with the facility of the musicians and excellent use of electronics, the sound is a rich as ever. Featured spot is given to – of all people – two singers from the defunct Turtles, Howard Kaylan and Mark Volman, whose staggering pop vision facility is exactly what was needed to convert Frank Zappa's words into a true rock theatre.
Warning – the Mothers' new songs use overt scatological language like an electrified Lenny Bruce. Do not book at seminaries or county fairs.
NAT FREEDLAND
Billboard.
Note. UCLA gig was in August 7, 1971.