1978 clippings
Phi Crappa Who?
By Dave Street [1]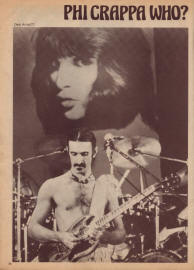 Desi Arnaz ??
Frank Zappa, the father of rock 'n roll's Mothers of Invention, has given birth to his own recording company, following his departure from Warner Bros. and a five-million-dollar breach of contract lawsuit against the Burbank, California-based record company.
Zappa, who became a legend in his own time during the sixties as the founding member and notorious leader of the highly sarcastic Mothers, launched his own label with the release of a four-record set that retails for 28 dollars but is expected to sell for much less by the time it reaches the stores [2].
Zappa describes it "as a handy compendium of everything I've been working on recently in all different fields." The reason for the four-record boxed set, which includes all categories of music, ranging from standard rock to orchestra to country western to punk, is that Frank feels that music critics can only judge him "by what's come out on the most recent albums."
"And," he explained, "since you can't really show any scope on an individual album, it's hard for me because my songs are too long. If you're doing all short songs, maybe you can get ten short songs on an album but my songs run seven, some twelve minutes."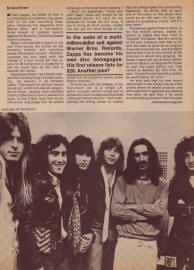 Just part of the band !!
[3]
Coinciding with the release of his four-record set is a single LP, which includes shorter songs and is aimed at a more widespread audience "who can't afford the box." Still maintaining the biting sense of humor that has always been his unrelenting trademark, he thinks that at least one of the tunes on the single disc could be an AM radio hit, "just because it's completely stupid, and it's also short."
The lawsuit against Warner Bros. is for five million dollars, based on claims by Zappa that they tried to "impede" his career. But the starting of his own company also has to do with his need to grow as an original musician and producer, and his belief that he has to be in full control of the direction in which he's growing. He doesn't expect an out-of-court settlement for the suit, and figures he'll have to wait five years before any final verdict is reached. By that time, he said, "five million dollars will probably be worth about 35 cents."
He also said that his new record label might in the future include other artists whom he would produce, and although he isn't aggressively seeking new acts, he said that if he came across anew punk band "that I thought
(Continued on page 95)
1. Source unknown. Continuation is missing. Published in the beginning of 1978 or in the end of 1977. Dave Street had in January 1978 interview with Frank Zappa in Acid Rock magazine – Phi Zappa Crappa Interview
2. This 4-record set was Läther. Read Uncle Frank sounds off: Läther in Zappa's own words about other Zappa interviews concerning Läther.
3. It's Angel. Left to right: Gregg Giuffria, Frank DiMino, Punky Meadows, Felix Robinson, FZ, Barry Brandt.