1991 clippings
Droodles have been around
35 years, and they're still fun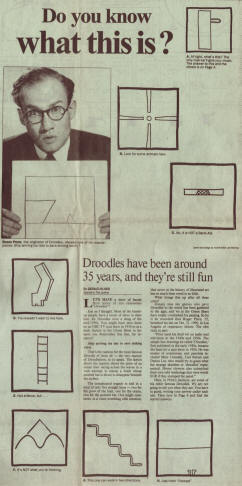 LET'S HAVE a show of hands: How many of you remember "Droodles"?
Just as I thought. Most of the hands-up people have a touch of silver in their hair, for Droodles were a thing of the mid-1950s. You might have seen them on an NBC-TV quiz show in 1954 or as a daily feature in the Green Sheet in the same era. Remember this line, for instance?
Ship arriving too late to save sinking witch.
That's the caption for the most famous Droodle of them all – the very essence of Droodledom, so to speak. The sketch above the caption shows the prow of an ocean liner racing across the waves in a vain attempt to rescue a witch whose pointed hat is about to disappear beneath the surface.
The complicated tragedy is told in a total of only five straight lines – two for the prow of the liner, one for the ocean, two for the pointed hat. One might comment, in a voice trembling with emotion, that never in the history of illustrated art has so much been owed to so little.
What brings this up after all these years?
Simply that the genius who gave Droodles to the world has been gathered to the ages, and we at the Green Sheet have totally overlooked his passing. So let it be recorded that Roger Price, 72, breathed his last on Oct. 31, 1990, in Los Angeles of respiratory failure. The obit read, in part:
"Price used his droll wit on radio and television in the 1940s and 1950s. The simple line drawings he called 'Droodles,' first published in the early 1950s, became the basis for a quiz show in 1954. He was master of ceremonies, and panelists included Marc Connelly, Carl Reiner and Denise Lor, who would try to guess what the strange sketches or 'doodles' represented. Home viewers also submitted their own odd renderings that were worth $100 if they stumped the panel."
ANSWERS
Here are the answers to the Droodle sketches from the first page.
A. Man playing trombone in telephone booth.
B. Four elephants inspecting a grapefruit.
C. Eiffel Tower as seen by guard in armored truck.
D. Building constructed from badly folded blueprints.
E. Stepladder belonging to hospitalized painter.
F. Camel passing a pyramid.
G. A snake going downstairs. (You also can make the snake go upstairs.)
H. Clumsy tightrope walker.
Here, in Price's memory, are some of his other famous Droodles. We are not going to tell you what they are. You have to guess, writing your answer under each one. Then turn to Page 4 and find the correct answers.
Green Sheet – The Milwaukee Journal – May 14, 1991