Frank Zappa's original handwriting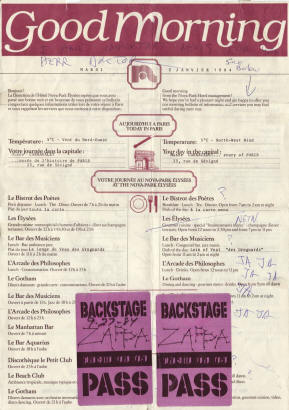 XX: "I interviewed Frank Zappa on May 21, 1982 about "Anti-Aesthetic Music" and an intensive artistic relationship developed, which lasted over several years. While Frank Zappa and I met each other in Hotel Nova-Park Élyseés Paris in January 1984, we also discussed Karlheinz Stockhausen and during the course of this conversation he wrote the "Ja" and "Nein" comments on the hotel's "Good Morning" Info-Page, responding to the "categories" mentioned there in the way he assumed Stockhausen might have."
I HAVE IMPORTANT NEWS FOR YOU, HERR DOKTOR – see below
Le Bistrot des Poètes – ?
Les Élyseés – NEIN
Le Bar des Musiciens – ?
L'Arcade des Philosophes – JA JA
Le Gotham – JA JA
Two backstage passes dated 9-27-84 (Luxembourg, Ancien Hall D'Expositions) are later pasted.