Pop, Rock and Jelly
By Jules Freeman
East Village Other, January 5, 1968
---
New York is fast, baby ... fast. Blink twice and you've missed it. Go to sleep and it'll all be over when you wake up. Did you ever get that feeling? Walking fast down Eighth Street to the subway and you meet this guy you know from somewhere who wants to stop and talk – tell you about all his problems and, wow, you were supposed to meet this chick maybe fifteen minutes ago and make it uptown to see the Mothers and you know you'1l get hassled at the door if you don't get there early and Jesus Christ, this guy's still talking and you don't want to be a schmuck, only ... [1]
Well, that's New York I guess ... and if you can stay around long enough, I've been told that you start to groove behind all of it. Only, a lot of people don't – a lot of people split and probably a lot more should but never get around to it. The Mothers of Invention were here for a while and left, came back and left and came back again two weeks ago for a set of weekend concerts at Town Hall. Originally from Los Angeles, they came to New York to make it ... hopefully on their own terms because they may be the most important rock group around. They're in New York to stay now, and they should be seen ... there's just too much music going on to be caught on an LP when they're on, and their earlier records just don't do them justice.
So there I am at Town Hall, nervously smoking under the "No Smoking" signs and prepared for anything since I'd never caught them live before. Turning around to look at the faces in back of me, on each side of me ... and then the faces in front of me turned around to look in back of them, on each side of them and oh, wow – they're all kids. Just sweet little carefully groomed boys and girls – teen America out for its big night in New York, out on daddy's money for a Friday night in Manhattan to see the Mothers of Invention, and, later, sitting around stoned in daddy's car out along Queens High – way and into Long Island: yeah man, the Mothers ... they're really boss. With tickets running from three fifty to six dollars, there just didn't seem to be many people I knew there and I began to feel a little guilty in my six dollar reviewer's seat surrounded by all that well scrubbed, mini-skirted teenage flesh.
Then Frank Zappa walks out onto the stage, long curling hair to his shoulders, lights a cigarette, counts the house and tells us: boys and girls, it seems that Town Hall was being used for various things until just a little while ago and the band hasn't had a chance to set up yet. Out comes a cocktail jazz group – vibes, piano, bass and drums and they're playing background music now [2], as a lady contortionist, a clown and a juggler move onto the stage and very seriously begin to go through their routines. All this time, Zappa and the rest of the band and their road managers are lugging all kinds of stuff like crazy onto the stage: amplifiers, drums, bells, guitars, saxophones, music stands – and they're tuning up now, checking out the electronics and running in and out between the circus act and the cocktail jazz group which is trying not to get distracted by all of this nutty stuff.
And then it's over and the jazz group leaves the stage and the clown and the juggler and the lady contortionist leave the stage and only the Mothers are left. Zappa announces his newest effort, King Kong, thirty minutes long with selections from Petroushka, Archie Shepp and maybe a dozen rock and roll classics from the fifties. Zappa has been doing these rock "oratorios" for a long time now and in King Kong he uses everything from simple polytonality to splitting the band into different sections all playing different tempos at the same time. Turning around again, I'm met by hundreds of absolutely stoney eyes; it's unbelievable – the kids aren't grooving on it. Last summer in a benefit at the Village Theatre the audience went wild over the Mothers ... but then the seats didn't cost five or six dollars and there was a much hipper crowd there, older, able to dig all the jazz solos and classical references.
It was different after the intermission – Zappa came out and put the audience down, very cool ... very subtle. All right boys and girls, a little teenage medley for all of you. The band went through some of its older material: a parody of the Supremes and other recent rock favorites, lots of falsetto singing and rolling eyes, and the audience ate it up. Between numbers, Zappa talking to the kids. Like Stokley, he almost doesn't deserve his audience and vice versa, but the audience wants to be condescended to ... wants to be put down. And Zappa knows it, is learning what he can get away with and still make it ... realizes that to play his music means making an act of it. More than just a rock oratorio, the Mothers are exploring a new world somewhere between burlesque and off, off Broadway theatre.
---
1. Mothers of Invention performed in Town Hall, New York, in December 22 and 23. This review is about first gig, December 22.
Here are two pictures from this gig (thanks to Javier Marcote)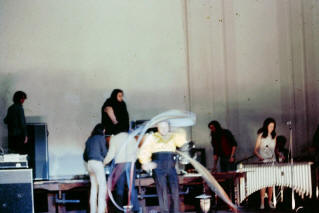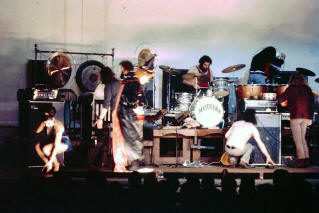 2. This warm-up band was Ruth Komanoff quartet – Ruth on vibes, Charlie Komonoff on hi-hat, Steve Margoshes on piano, and a friend on bass, playing songs from Freak Out! (Frank Zappa Gig List 1967)
Read by OCR software. If you spot errors, let me know afka (at) afka.net