A Conference Of Composers
---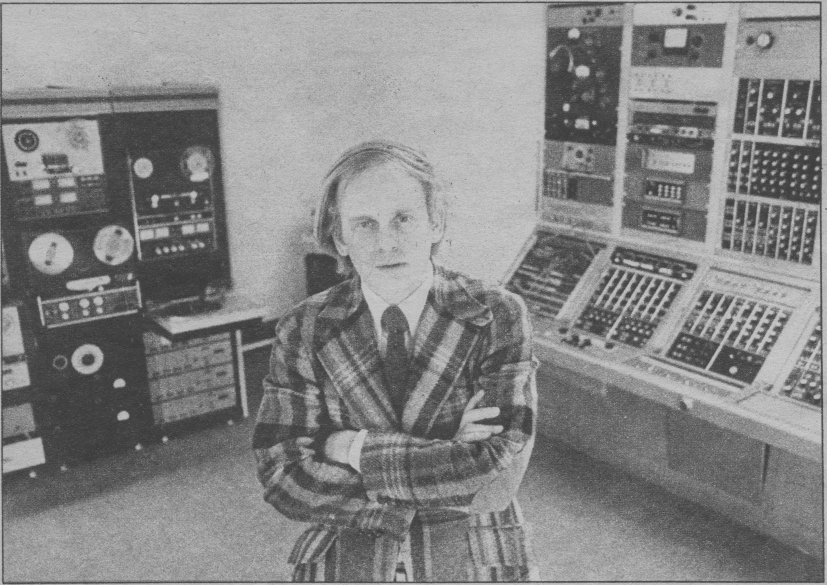 Stocks of equipment in OSU's Sound Synthesis Studios range behind Tom Wells, an associate professor of music and co-director of the American Society of University Composers' four-day festival starting here Wednesday. Wells expects attendance to approach 3,000 – about 300 of whom will be composers from around the country and abroad. Frank Zappa will be the convention's keynote speaker.
The American Society of University Composers will hold its 19th annual festival conference at Ohio State University Wednesday through Saturday. It is the first time the organization has met in Columbus. A similar event in Cincinnati two years ago attracted attention from the national press. and major music magazines.
Registration for events is at 1 p.m. Wednesday in the Fawcett Center for Tomorrow, where all lectures, panel discussions and meetings will be held. Concerts will be presented each night in OSU's Weigel Hall, behind Mershon Auditorium, as well as during the daytime at other locations. For a complete schedule of events, contact Tom Wells or Gregory Proctor, festival co-directors, at 4227837 or 422-1245.
Wells – a composer, an associate professor at OSU and author of The Technique of Electronic Music – said, "This conference is the most ambitious ever as far as scope. Over 70 pieces will be performed in four days of concerts, and we have put panels and paper sessions back to back to get as many in as possible and to present a lot of variety." Papers, on topics like minimalism and music perception research, begin at 8:15 a.m. Thursday and run throughout each day.
Featured at this festival will be electronic music; computer music; music by women composers, including last year's Pulitzer Prize winner Ellen Taafe Zwilich; and music for larger ensembles. Both the Pro Musica Chamber Orchestra of Columbus and the Columbus Symphony Orchestra will participate, the former in the opening concert at 8 p.m. Wednesday and the latter at the closing program at 8:15 p.m. Saturday. Two guest contemporary music ensembles – Relache from Philadelphia and Urban 15 from San Antonio – also will perform, as will OSU's own Wind Ensemble and choral organizations.
The school of music's electronic music headquarters – Sound Synthesis Studios – will be open for touring, said Wells; and the Cranston Center for computer animation will be the site of one of the daytime concerts. "We would like to make the public aware that music is being composed in Columbus and is exciting and relevant to their existence. We would like to get people to come hear what we do."
Wells is particularly pleased that both Pro Musica and the CSO agreed to participate. "Part of why we're doing this is to show off the resources we have in Columbus. In the past, there has been no national recognition of music in Columbus."
Wells expects that the festival will attract about 300 composers from around the country and abroad, including those – such as Elliott Schwartz, Jonathan Kramer and Sidney Hodkinson – whose music will be performed. Attendance at the event could approach 3,000.
Wells and a selection committee waded through 1,000 scores submitted for performance during the festival. OSU will make digital recordings of every performance, many of which will be world premieres.
The ASUC annual convention is the largest new music festival in the United States. It is the single most significant musical event in Columbus this season and provides an unprecedented opportunity for curious locals to hear new music.
ASUC is made up of composers who make their living primarily as teachers of composition, at colleges or universities. With membership of around 1,000, ASUC reflects a phenomenon of contemporary American society: The patron of classical music today is the educational establishment. Just as patronage from the church and the aristocracy in large measure determined the music of past centuries, so today the university environment molds classical music.
Keynote speaker at the convention is Frank Zappa, who has promised to comment on academic classical music today in a speech entitled Bingo! There Goes Your Tenure.
Read by OCR software. If you spot errors, let me know afka (at) afka.net