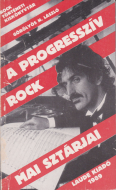 A progresszív rock mai sztárjai
Laude Kiadó, Budapest


1989
ISBN 963-02-6302-5
206 pp, paperback, 18 x 11 cm
Hungarian
---

László N. Göbölyös
Journalist, blogger,
lecturer
László N. Göbölyös dedicated the opening chapter of his book "Today's stars of progressive rock" to Frank Zappa. In addition to Csaba András Dézsi's Zappa book that was the second Hungarian-language publication that seriously deals with the maestro's work.
The full text of the Frank Zappa chapter is accessible at frankzappa.blog.hu.
C
ontents
| | |
| --- | --- |
| Preface | 3 |
| Joint artistic endeavors | 5 |
| Frank Zappa | 9 |
| Peter Gabriel | 29 |
| David Bowie | 57 |
| Sting | 73 |
| Vangelis | 95 |
| The New Age | 103 |
| The new wave of progressives | 115 |
| U2 | 119 |
| Prefab Sprout | 135 |
| REM | 141 |
| Marillion | 149 |
| Progressive little masters | 161 |
| Ultravox | 165 |
| Suzanne Vega | 173 |
| Deacon Blue | 177 |
| The Cure | 185 |
| New-underground and new-folk-rock | 199 |
Links
frankzappa.blog.hu
László N. Göbölyös @ facebook
László N. Göbölyös @ metropolitan.hu
Source: Václav Pěnkava