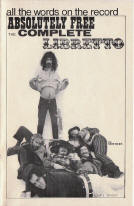 Absolutely Free - The Complete Libretto

Frank Zappa Music BMI


1967
ISBN –
16 pp, stapled, 21 x 14 cm
English
---
Record Collector magazine #93, May 1987 : "The US version of Absolutely Free was due to be released in January 1967. Zappa had wanted the album to include a libretto/lyric insert, but MGM attempted to censor some of the songs and, following a four-month delay, Absolutely Free appeared without the libretto."
This libretto was made available by mail order. Printed inside the gatefold cover of Absolutely Free was the note "Send money. As much as you can get. $1. minimum. All the words on the record..even little sneaky ones! Merely send money...as much as you can...how you get it we could care less (make sure it's at least $1.00) for your very own libretto.....dump money into a shoebox & tie securely. Ship immediately..."
Frank Zappa talking with Frank Kofsky about this libretto
Scans @ Recordmecca
Full text @ killuglyradio
absolutely free libretto!
Source: recordmecca