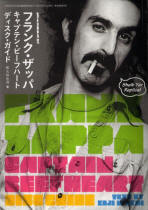 Frank Zappa / Captain Beefheart Disc Guide

Music Magazine


2011 January 18
ISBN _
240 pp, paperback, 21 x 15 cm
Japanese
---
Koji Wakui
Musician and writer
Koji Wakui (和久井 光司) is a journalist, writer, musician, composer, producer, and long time fan of Frank Zappa and Bob Dylan. Several articles on Zappa by Koji Wakui were published in Japanese Strange Days magazine.
This book has the following table of contents:
Frank Zappa in Japan 1976 (photos)
Frank Zappa collection
Beefheart collection
Zappa and Beefheart, the "avant garde"
Koji Wakui and Naoe Masahiro are talking - "cathartic chaos and beauty soap"
Frank Zappa chronology
Frank Zappa

albums, singles list, compilations, CDs

Captain Beefheart

albums, singles list, compilations, CDs

Related works

LA rock and Zappa's family
Discs produced by Zappa
Discs issued on Zappa's labels
Albums by related musicians

Afterword
The book is available at HMV Online Shop - very fast worldwide delivery (4 days to Europe).