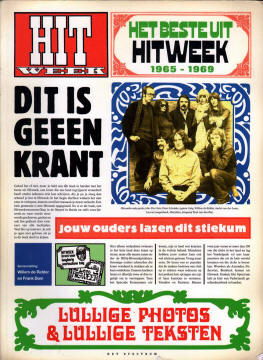 Het Beste Uit Hitweek, 1965-1969

Het Spectrum


2003 June
ISBN 90-274-8816-9
274 pp, paperback, 36,5 x 27 cm
Dutch
---
The "best of Hitweek magazine" book is compiled by Hitweek co-founder Willem de Ridder and designer Frank Dam. Introductory text by Peter Schröder. Contains black-and-white facsimile copies of many Hitweek issues plus complete index of ALL Hitweek issues.
this book is some sort of "best of" of the dutch underground magazine "hitweek" that got published from 1965 until 1969. hitweek was the first dutch magazine that talked about zappa & the mothers of invention. a couple of these articles are in this book.
... Immaculately layed-out, this one's well worth checkin' out. Same goes for Het Beste Uit Hitweek '65-'69, an overview of Hollands main 60s music mag Hitweek, as essential a part of the Dutch six-o scene as the Outsiders or Cuby. No lookin' back or hindsight, just page after (original-) page of tales about long hairs vs straights, provos, beat groups (even tho' one can already spot the roots of Holland's longtime fascination w/ Zappa and country rock in here), and browsin' thru' this really brings the era back to life. Essential !.
Reviews: