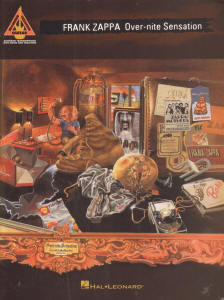 Frank Zappa – Over-nite Sensation

Hal Leonard Corporation, Milwaukee


2011
ISBN 978-0-634-06110-3
104 pp, paperback, 30,5 x 23 cm
English
---
Third Zappa music book from Guitar Recorded Versions series by Hal Leonard. Hal Leonard: "Guitar Recorded Versions note-for-note transcriptions are written directly from artist recordings."
This book was announced for 2008, but actually came out in 2011. Publication date in Amazon (October 1, 2010) seems to be incorrect. The reason why it was delayed is not known. Foreword by Warren Cuccurullo was written already in 2007. Transcriptions are by Paul Pappas.
It's the 3rd book of Zappa music transcriptions by Hal Leonard. One Zappa transcriptions book more is announced by Hal Leonard and is listed by Amazon.
Bookshops
Book Depository (worldwide free shipping)
amazon.com

HAL Leonard Zappa series books: