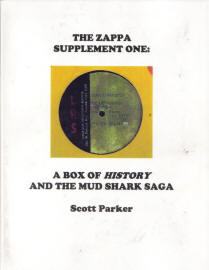 The Zappa Supplement One:
A Box Of History And The Mud Shark Saga

SPB Publishing, Waterbury, CT


2008
ISBN –
134 pp, paperback, 28 x 21,5 cm
English
---
The first part of this book is the history of the 12-LP History And Collected Improvisations Of The Mothers Of Inventions box set.
The second part of this book is the saga of Mud Shark Records, compiled with a help of Rob Cerretta itself. Very interesting reading, and highly recommended! The other good article about Mud Shark label is "The Mud Shark Anthology", issued in Hot Wacks Quarterly.
Scott Parker:
The purpose of this Supplement is to extend out discussions about subjects that I have written about in my Recordings Of Frank Zappa series but which I've had to cut down due to considerations of lenght.
I wasn't sure that a book looking into The History And Collected Improvisations Of The Mother Of Invention and all the Mud Shark bootleg elpees would hold the same sort of appeal as Scott's two slightly-broader The Recordings Of Frank Zappa series of books. But I does! I didn't know Frank 'wrote' two different pieces called Kung Fu, did you? What about the uncredited (string) bass player on Burnt Weeny Sandwich. It's all in here, but it's kinda hard to review properly coz it's so engrossing.
www.scottparkerbooks.com
At last! My new book THE ZAPPA SUPPLEMENT: A BOX OF HISTORY AND THE MUD SHARK SAGA now available :-)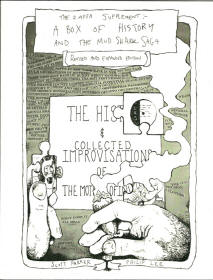 The Zappa Supplement One:
A Box Of History And The Mud Shark Saga
Revised & Expanded Edition

SPL Publishing, Waterbury, CT


2011 August
ISBN 978-1466401440
220 pp, paperback, 28 x 21,5 cm
English
---
This is second, revised and expanded edition. Philip Lee added to authors list.
Scott Parker:
This book was originally self-published in 2008. Since its initial publication, a huge amount of new information has surfaced about the unreleased 1969 History And Collected Improvisations Of The Mothers Of Invention box set in the Frank Zappa community. In 2010, Phil Lee – one of the foremost Zappalogists known to mankind – convinced me to collaborate on a re-writing of the original work, which was by then severely out of date in the information department.

The original work is now greatly expanded, and makes for a far more informative learning experience than the previous edition.
Bookshops
Source: Javier Marcote