Actuel
Actuel
(today) was in the beginning (1968) a jazz newspaper, then pop magazine. Later in 70s
Actuel
was an important counterculture publication covering rock, drugs, feminism and ecology. (
wikipedia
)
Different series of
Actuel
had separate issue numbering:
- 1st series 1968-1970
- 2nd series 1970-1975
- 3rd series 1979-1994
Actuel
magazine started Actuel Records label and organized
Actuel Festival
in October 1969 at the Amougies.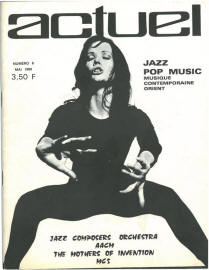 No. 6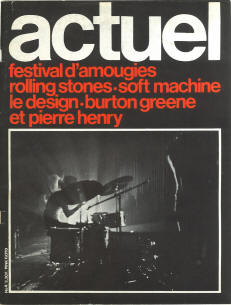 1969 November
No. 9
Amougies
By Denys Lemery, pp 2-5

Amougies Free
By Jean-Max Michel, pp 18-26, 56-57

la Tête de "More"
By Olivier Hiriart, pp 24-26

Amougies Pop
By Pierre Lattes, pp 41-49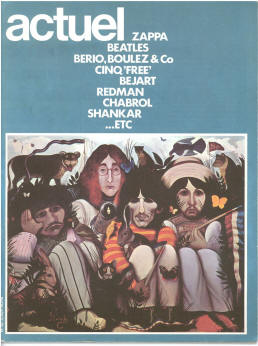 No. 10
Zappa! Hier Aujourd'hui Demain
By Rolf-Ulrich Kaiser, pp 46-50
---
This interview titled "Zappa! Yesterday, Today, Tomorrow" is part 1 of an interview made in Zappa's log cabin, Summer '68. Part 2 was printed in the next issue.
Partly the interview was published in German Konkret, September 1968.
Source: slime.oofytv.set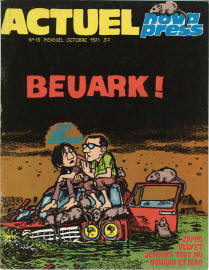 No. 13
Zappa parle
By ?, pp 32-33
---
Full text of the interview "Zappa speaks" is available at Fredunzel.
Source: slime.oofytv.set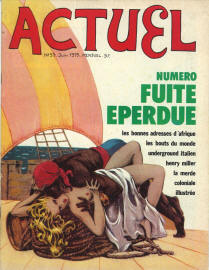 No. 55
Viva Zappa - Gong go home!
By ?, p 31